Bette Brand
Deputy Under Secretary for Rural Development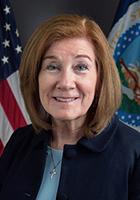 Bette Brand serves as the Deputy Under Secretary for Rural Development. She came to USDA after 35 years with Farm Credit of the Virginias, where she most recently served as chief advocate for the agriculture industry and rural businesses, supporting producers at the state and national level and educating policymakers and consumers on agriculture.
Serving as the Rural Business-Cooperative Service Administrator, Bette has supported the RD mission through strong leadership, program stewardship, and also through partnerships within the federal family with sister agencies like SBA and DOE. Prior to this, Brand served as Chief Sales Officer, overseeing the business development of a $1.6 billion credit portfolio, managing a team of commercial agriculture and agribusiness lenders, and supervising FCV's marketing and branding. She has wide-ranging experience promoting rural communities, having served on the Virginia Agribusiness Council, the Virginia Horse Council, the Virginia Cooperative Council, and the Virginia Foundation for Agriculture in the Classroom.
Since her arrival to USDA in January 2018, Brand has prioritized increasing rural America's access to capital, investing in innovative technology, and helping businesses create jobs. She especially enjoys traveling across the country in her official capacity as Administrator to better understand the specific needs of America's diverse rural communities and to discuss with local leaders the best way to serve them. By focusing on Infrastructure, Partnerships, and Innovation, Administrator Brand looks forward to continuing her work to help revitalize America's rural economy in 2019.
Administrator Brand has a degree in Animal Science and an MBA from Virginia Tech. She and her husband David live in Roanoke, Virginia and have three grown sons.