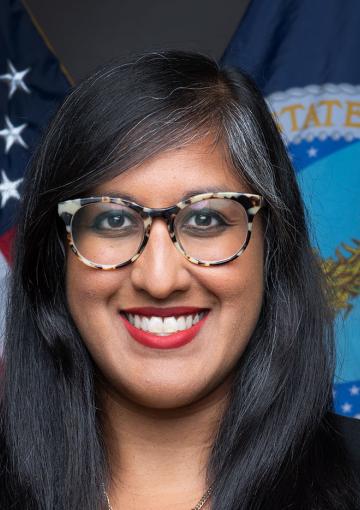 Farah Ahmad
Deputy Under Secretary for Rural Development
Farah Ahmad serves as the Deputy Under Secretary for Rural Development at the U.S. Department of Agriculture (USDA). She works to advance policies and programs that create economic inclusion and opportunity in rural communities. Before this role, she was the Chief of Staff in the same office. She first joined USDA in 2015 in the Rural Business-Cooperative Service where she led community and economic development programs in rural places and regions. 
Farah also spent a number of years at the Consumer Financial Protection Bureau beginning in 2017, where she managed programs that help people improve their financial well-being as well as overseeing agency-wide strategic initiatives. Before joining government service, she served as a Senior Policy Analyst for the Center for American Progress where she developed economic policies focused on racial equity. 
Farah has a Master of Public Affairs from the Princeton University School of Public and International Affairs and a Bachelor of Science from the Cornell University School of Industrial and Labor Relations. She is a proud Midwesterner and Bangladeshi American who, along with her spouse, is often in awe of their two fiercely independent daughters.