Blake Curtis
New Mexico State Director Blake Curtis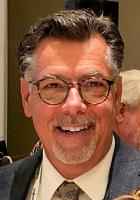 Blake Curtis, a fourth generation New Mexican, was born in 1958 and was raised on the same Forest, New Mexico ranch where his ancestors homesteaded in the early 1900s.  Blake attended school in Melrose, New Mexico and graduated in 1976.  He and his wife, Terri, married shortly thereafter and began a family while simultaneously pursuing training in language and multicultural preparation at the Universidad Interamericana in Mexico from the fall of 1976 to the spring of 1977.  At that time they returned to New Mexico where Blake attended New Mexico State University.  He eventually completed his BBA degree at Eastern New Mexico University in Portales, New Mexico.

Blake has served in various roles, including that of senior Vice-president at Curtis and Curtis, Inc., a successful, family-owned, agriculturally-based business in eastern New Mexico.  He has also been politically active over the course of his lifetime, serving as New Mexico State Legislator from 1986-1995, contributing as Minority Caucus Chair, Minority Whip, and Minority Leader.  Afterwards, he was appointed and served on the New Mexico Fair Commission from 1995-2001 and joined the New Mexico State University Board of Regents in 2006.  As a board member, Blake served as Secretary, vice-chair, and Chair.  Social and cultural service roles include being a board member and Chair of the Clovis Curry County Balloon Fiesta Committee and President of the Clovis Curry County Chamber of Commerce.  Additionally, Blake was a gubernatorial appointed board member of the New Mexico Finance Authority, served on the American Seed Trade Association Board as the Southern Regional Vice-president, First Vice-chairman, and Chairman.  He also served as the President of the New Mexico State Seed Association.

On a more personal level, Mr. Curtis enjoys being an active member of the High Plains Emmaus Community, serving as lay director of men's walk #28.  He and his wife, Terri, recently celebrated forty-three years of marriage, have two sons, T.J. and Andrew, and are blessed by their six grandchildren.