Brad Finstad
State Director of Minnesota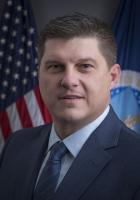 A fourth generation resident of the New Ulm, MN area,  Brad Finstad is no stranger to rural America and the importance of continuing its prosperity.
After graduating from the University of Minnesota with a degree in Agriculture Education with emphasis in Rural Leadership Development, Finstad began his career in the Human Resources department for Christansen Family Farms, introducing him to "real people, the real world and agricultural production." From there, Finstad's career took him on a whirlwind of rural government, policy, and legislative service spanning more than 20 years. Starting with a brief role as Area Director with the Minnesota Farm Bureau, to agriculture staff for Congressman Mark Kennedy, to three terms representing District 21B in the Minnesota House of Representatives, and most recently serving as Executive Director of the Center for Rural Policy Research. Finstad has spent his career serving the interests of rural communities.
Finstad shares his passions with wife Jaclyn, whom he proudly will tell you he first met on the school bus in second grade. Brad and Jaclyn have seven children.  In partnership with extended family, they operate a family farm that has been around for generations.