Brenda Iokepa-Moses
State Director of Hawaii, Western Pacific, and American Samoa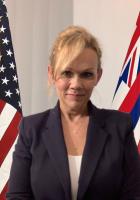 Brenda Iokepa-Moses brings to Rural Development a grounded history in hands-on work with farmers and ranchers in soil and water, horticultural practices and land lease and purchasing negotiations. Her planning and operations employment with owners of rural land  in Hawaii, where real estate is dear, has given her decades of experience in establishing common ground between farmers and property owners to benefit the future of agriculture. She is known for her interpersonal skills in business, the nonprofit organizations where she volunteers, and in working with ranchers and farmers and their cooperative organizations on many issues, including farmland security.

As a land manager, Iokepa-Moses has overseen daily more than 60 independent farmers on land leased to them, as well as thousands of acres leased to cattlemen, while carrying out improvement projects, with responsibility for bidding and completion. With over twenty years of military service with the Army Reserves this training is apparent in her time management and project completion skills. 
In her community of Pahala, Hawaii, she serves as a co-organizer of the Kau Coffee Festival, which helps to market one of the most important crops of the region. She also volunteers for the service organization O Ka`u Kakou.  Since 2013, she has served as President of the Hawaii Association of Conservation Districts, with its members in 16 Districts across the state, assisting with public affairs and management. She also chaired the Kau Soil & Water Conservation District and is secretary and past president of the Kau Farm Bureau. She served on the Department of Water Supply Board from 2012 - 2017.

Iokepa-Moses's education spans from military training to a paralegal degree, from studying business at the University of Hawaii to courses in real estate, construction engineering and leadership development. She is married with three children.