David L. Hall
State Director of Ohio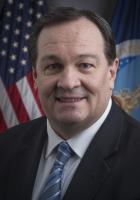 David L. Hall is the State Director for USDA Ohio Rural Development.
Appointed by the Trump Administration in November 2017, Hall brings more than two decades of expertise to the position, with work encompassing private, quasi-governmental, and public-sector service.
A native of Millersburg, Ohio, Hall served as a Holmes County Commissioner for a decade before being elected to the Ohio House of Representatives in 2009. During his eight-year tenure representing Ohio's 70th House District, he served as chairman of the Agriculture and Natural Resources Committee, and was appointed to the Finance Committee and the Finance Subcommittee on Agriculture and Natural Resources, among others. More recently, he served on the Ohio Public Works Commission, and is a past president of the Ohio Mid-Eastern Governments Association (OMEGA).
For his work in the Ohio House, Hall received "Watchdog of the Treasury" awards from United Conservatives of Ohio in 2010 and 2012. He was named "2011 Legislator of the Year" by the Ohio Parks and Recreation Association, received the "2012 Robert W. Wilkinson Award" from the Ohio Aggregates and Industrial Minerals Association, was named "2012 Legislator of the Year" by the Ohio Farmers Union, and "2013 Legislator of the Year" by the Ohio Nursery and Landscape Association.
As State Director, Hall will use his leadership experience to oversee Rural Development programs in a customer-focused manner to restore prosperity in rural Ohio.