Debbie S. Turbeville
State Director of South Carolina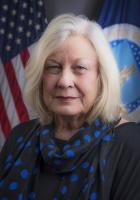 President Trump has appointed Debbie S. Turbeville as State Director for USDA Rural Development in South Carolina. Turbeville assumed her position on November 13, 2017.
Upon graduation from Coker College with a Bachelor of Science in Business Administration and a minor in Education, Turbeville began working with the Girl Scout Council of the Pee Dee Area. In November of 1982, she pursued a career with USDA Farmers Home Administration in Williamsburg County.
In 2015, Turbeville accepted a position as Area Director for Orangeburg/Aiken and the surrounding counties until her appointment as State Director.  Additionally, Turbeville has worked in several positions within USDA Rural Development as Assistant County Supervisor, County Supervisor, Cooperative Development Specialist and Agriculture Marketing Specialist.
Turbeville has a passion to convey the mission of USDA Rural Development to our customers in South Carolina more efficiently and effectively. As State Director, Turbeville will use her leadership experience to oversee Rural Development programs in a customer-focused manner to restore prosperity in rural South Carolina.