Denise K. Lovelady
State Director for Maryland and Delaware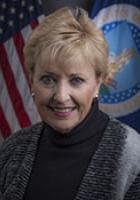 Denise Lovelady was appointed as the State Director for USDA Rural Development serving Maryland and Delaware. Lovelady began her new role on November 13, 2017.
Lovelady brings over 20 years of executive and management experience in both the public and private sectors. Most recently, she served as District Liaison for Congressman Andy Harris (MD1), covering the rural areas of Maryland's Eastern Shore. Her broad experiences, specifically in the areas of government, legislative affairs, public relations, economic development, agriculture, natural resources, real estate, and community outreach, provide an impressive foundation to be State Director for Rural Development. Her focus for the past several years has been understanding the issues that rural communities struggle with and working with all levels of government to find solutions that bring about economic opportunities while preserving the quality of family life in rural areas. A lifelong Maryland resident, she resides on Maryland's Eastern Shore near Easton.
As State Director, Lovelady will use her leadership experience to oversee Rural Development programs in a customer-focused manner to restore prosperity in rural Maryland and Delaware.