Dr. Lee R. Denney
State Director of Oklahoma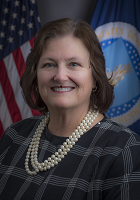 The Trump Administration has appointed Dr. Lee Denney to serve as State Director for USDA Rural Development in Oklahoma.  As a key federal partner to rural America, Denney brings a wealth of experience to this critically important position.  Denney holds an Agriculture Economics degree and received her Doctorate of Veterinary Medicine, both from Oklahoma State University.  
Denney has a strong history of public service.  Elected by her constituents, she served in the Oklahoma House of Representatives for 12 years.  Her leadership as Assistant Majority Floor Leader, Speaker Pro Tempore, and numerous committee assignments helped to guide discussions related to education, energy, economic development, appropriations, and other factors that impact the lives of Oklahomans.   Additionally, Denney has been active in the local level of government by serving as City Commission Mayor for Cushing, Vice Mayor of Cushing, and various other capacities for this rural central/eastern Oklahoma community.
The Trump Administration has sought highly qualified individuals to serve rural America in these key roles in USDA.   Denney's strong educational background ranges from being an accomplished student, to education advocate, to teaching/professor.  Her experience in public service spans the local, county, and state level.  And, most important, she is the mother of two wonderful children. Denney brings an immense amount of education and practical experience to the Oklahoma State Director position and looks forward to serving Oklahoma in this role.