Jack R Smith
State Director of Arizona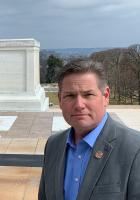 Message from State Director Jack R. Smith
Thank you very much for your interest in USDA Rural Development programs that support rural America. My name is Jack Smith and I have the honor of being appointed by President Donald Trump in July 2019, as the Arizona State Director for USDA Rural Development.
I'm excited to be part of the USDA team because of the opportunity to work for Secretary Sonny Perdue. His vision, and the strategic plan outlined for USDA, is a winning one that will bring economic development and rural prosperity to our wonderful state.
Under President Trump's leadership, Secretary Perdue and I are committed to creating prosperity and improving the quality of life in rural America. I will be their eyes and ears, here, in rural Arizona — communicating Arizona's unique challenges and needs of our rural communities to Washington. The programs in the Rural Development portfolio can help address many challenges and needs. 
Three key priorities that are critical and will bring economic prosperity to our rural communities is...
Infrastructure. Investments in rural infrastructure (roads, bridges, railways, waterways) mean more jobs, more capital, and more opportunities to help entrepreneurs create or expand their businesses.
The second priority is building and developing Partnerships. Partnerships leverage expertise and capital -- allowing us to achieve more together than we ever could alone.  With partnerships, we build strong relationships and create opportunities to collaborate with non-profits, private companies as well as stakeholders, and other public sector partners.
The third priority is Innovation. The Secretary has created an Innovation Center within Rural Development that is working to streamline, modernize and strengthen Rural Development's resources. We are developing innovative options for policy, program delivery and administration. For USDA, innovation will enhance customer service and production, even if that means coming up with solutions that get government out of the way. In short, innovation will be what we do every day to ensure good management practices that use taxpayer dollars as efficiently and effectively as possible.
So, what is USDA Rural Development and how can you benefit from these programs – let's get started…
Biography for State Director Jack R. Smith
Smith brings seven years of experience serving as County Supervisor in Yavapai County. He was elected to serve as the Legislative Policy Liaison and 2nd Vice President of the County Supervisors Association of Arizona and was also a member of the NACo Rural and Agriculture Affairs Committee.
During his tenure he worked on increasing transparency and building regional cooperation.
Before joining the Yavapai County Board of Supervisors, Smith managed transportation, warehousing and logistics with the Pepsi Bottling Group and the Ace Hardware Corporation.
Smith served eight years in the United States Army and was awarded the Army Commendation Medal, two Army Achievement Medals, and the Good Conduct Medal.
Jack and his wife have two children. He holds a bachelor's degree in Christian Studies from Grand Canyon University. Smith makes God, church and family his top priorities and is committed to investing the time to make our families and communities successful. As State Director, Smith uses his leadership experience to oversee Rural Development programs in a customer-focused manner to restore prosperity in rural Arizona.