Jason Allen
State Director of Michigan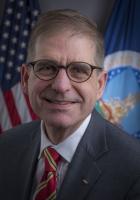 Jason Allen is the State Director for USDA Rural Development in Michigan.
Prior to his appointment, Allen was a development specialist with the Michigan Department of Agriculture and Rural Development.  A resident of Traverse City, he has served in the Michigan Army National Guard and was elected to two terms each in both the Michigan House of Representatives and Senate. 
He has also served as a senior policy advisor for the Michigan Veterans Affairs Agency where he assisted veterans to manage relationships with the Michigan legislature, local governments and social agencies.  A rural small business owner, Allen attended Northwestern Michigan College and then transferred to Miami University of Ohio, earning a Bachelor's degree in finance.
As State Director, Allen will use his leadership experience to oversee Rural Development programs in a customer-focused manner to restore prosperity in rural Michigan.