John E. Huffman
State Director of Oregon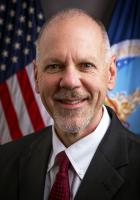 Message from the Oregon State Director:
On behalf of the U.S. Department of Agriculture (USDA) Rural Development staff in Oregon, welcome to our website. I invite you to explore the valuable information available here on our programs and services.
USDA Rural Development is working to expand economic opportunities and create jobs for rural Oregonians. Through a variety of loan and grant programs, we are expanding and modernizing infrastructure in rural communities; supporting business development; ensuring rural Oregonians have access to affordable, quality housing; supporting community services, such as education, public safety, and healthcare; ensuring rural Oregonians have access to safe drinking water; and providing modern utility and telecommunication services.
We are building for the future, and working in partnership with business and community leaders at all levels. We are making certain that available resources are invested wisely in a coordinated manner to improve the economy and quality of life in rural America.
Please take a look at all we have to offer rural Oregon through our various programs. By exploring our website, I hope you'll gain a better understanding of how USDA Rural Development is fulfilling its mission and creating new opportunities for rural Oregonians.
If you need additional information, give our staff a call, send an email, or set up an appointment to come in and see us.
Thanks for visiting. Let's work together!  
John E. Huffman
Biography:
John E. Huffman is the State Director of the U.S. Department of Agriculture (USDA) Rural Development in Oregon. As State Director, Huffman will use his leadership experience to help implement USDA policies and oversee Rural Development programs in the state to improve the economy and quality of life in rural America.
Appointed by the Trump Administration in November 2017, Huffman brings a wealth of experience to the position. He spent the past 10 years as an Oregon State Representative. His extensive experience identifying the needs of the rural communities he represented and helping to implement solutions will inform his new position with Rural Development. One of his first achievements in the state legislature was to help bring cellular infrastructure to a rural county in central Oregon. Huffman served on the Joint Committee on Ways and Means and numerous ways and means subcommittees over the years. He has also led wide-ranging efforts, from expanding affordable rural housing, to connecting rural businesses with the resources that will enable them to thrive, to supporting the installation of new sources of renewable energy.
Prior to serving in the state legislature, Huffman owned and managed a successful radio station in north central Oregon for 22 years.
He is supported in his work by his wife, Korina.