Kimberly Dolbow Vann
State Director of California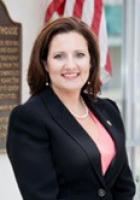 Kim Dolbow Vann is the State Director of the United States Department of Agriculture (USDA) Rural Development (RD) in California. 
Appointed by the Trump Administration in November 2017, Vann brings more than 20 years of experience and dedication to economic development and the improvement of rural life. Most recently, Vann spent eleven years as a Colusa County Supervisor representing the first district. During her tenure she served as the Chair of Rural Counties Representatives of California, and led the charge on all federal and state issues that affect rural counties. In addition, Vann served as the Chair of Sites Reservoir Joint Powers Authority, leading the new public private partnership in creating an above-ground water storage facility in rural Colusa County.
Vann hails from a 6th generation farming family and is a lifelong California resident.  As State Director, she will use her leadership experience to oversee Rural Development programs in a customer-focused manner to restore prosperity in rural California.