Kirk Pearson
State Director of Washington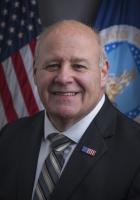 Kirk Pearson was named as State Director for USDA Rural Development in Washington State by the Administration of President Donald Trump.
Before his appointment, Pearson served in the Washington State Legislature for 17 years, serving on the Senate Agriculture, Water, Trade, and Economic Development Committee and as Chairman of the Senate Natural Resources and Parks Committee.  He has promoted legislation to help rural communities grow and thrive in the state of Washington. As State Director, Pearson will use his leadership experience to oversee Rural Development programs in a customer-focused manner to restore prosperity in rural Washington State.
Under the direction of Secretary Sonny Perdue, the USDA will always be facts-based and data-driven, with a decision-making mindset that is customer-focused. Secretary Perdue leads the USDA with four guiding principles: to maximize the ability of American agriculture to create jobs, sell foods and fiber, and feed and clothe the world; to prioritize customer service for the taxpayers; to ensure that our food supply is safe and secure; and to maintain good stewardship of the natural resources that provide us with our miraculous bounty. And understanding that we live in a global economy where trade is of top importance, Secretary Perdue has pledged to be an unapologetic advocate for American agriculture.