Lynne Hinrichsen
State Director of Kansas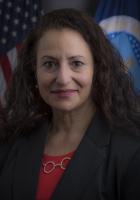 Lynne Hinrichsen served the state of Kansas as the Agribusiness Development Director for the Kansas Department of Agriculture for the past four years. Prior to working in the public sector, she owned and operated a professional staffing service for 13 years where she provided human resource consulting services to companies as well as temporary and permanent employment opportunities to people.
She has an extensive background in sales, marketing, advertising, management, strategic planning and business development through her career in the staffing, beef cattle and food distribution industries. She remains active in the agricultural industry through membership in the American Angus Association, Kansas Angus Association, American Angus Auxiliary, Kansas Angus Auxiliary, National Cattlemen's Beef Association and Kansas Livestock Association.  She has served in officer and committee roles within several of these organizations and most recently was the President of the American Angus Auxiliary after serving eight years on the board.
Hinrichsen is a graduate of Michigan State University with dual Bachelor of Science degrees in Animal Science and Agricultural Communications. During college she was a member of the livestock, meats and horse judging teams and an active member of the MSU Block and Bridle organization.
For over 25 years, Lynne, her husband, Ron and their two children, Cale and Eva have owned and operated Hinrichsen Ranch, a registered Angus cattle operation in Westmoreland, Kansas. They have built their genetic program through an intensive artificial insemination and embryo transfer program with intent of producing functional, productive cattle with a balanced EPD profile. The ranch annually sells bulls and females in the fall to commercial and seed stock producers. In addition, the family has experience in marketing cattle internationally. The family enjoys successfully exhibiting cattle at the local, state and national levels each year.