Philip Leary
State Director of Florida and U.S. Virgin Islands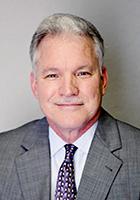 Philip Leary, AICP, was named State Director for USDA Rural Development in Florida and the U.S. Virgin Islands in April 2019. Leary has thirty years of experience in the fields of agriculture, forestry, land use planning and environmental regulation working for local and state government and the private sector.
Formerly Principal Consultant of Leary Governmental Affairs Consultants, Inc., Leary represented clients in the specific areas of environmental regulation, economic development, growth management, and land and water use.
From 1993 to 2004, Leary served as Director of Government and Community Affairs for the Florida Farm Bureau Federation, the largest general farm membership organization in the State of Florida.  Leary was also former Planning and Development Director for Clay County and Putnam County, and worked for four years as Water Resource Specialist with St. Johns River Water Management District.
Leary received a Bachelor of Science in Agriculture - Natural Resources and Environmental Economics, with a minor in Environmental Studies from the University of Florida. He completed post graduate work in Public Administration, Public Policy, and Planning at the University of North Florida.