Timothy Hobbs
State Director of Maine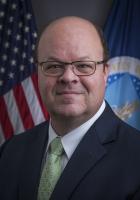 Timothy Hobbs is State Director for USDA Rural Development in Maine. The federal agency provides loans and grants to help expand economic opportunities, create jobs, and encourage rural prosperity.
Timothy joins the agency after serving as Director of Development and Grower Relations at the Maine Potato Board, a position he held for over 15 years. In this capacity, he was an advocate for 250 potato farmers, helping to give them a voice in Washington DC to improve agricultural production in Maine.
Prior to his time with the Maine Potato Board, Timothy was Executive Director for the Central Aroostook Soil and Water Conservation District, and owned and operated a small family business with locations in Presque Isle and Caribou. He holds an Associate's Degree from Northern Maine Community College.
Timothy is a life-long Maine resident. As State Director, he looks forward to leading USDA Rural Development's efforts to support infrastructure improvements; finance business development; create homeownership; empower community facilities such as schools, public safety and health care, and to invest in the quality of life for residents living in rural areas of Maine.