F.E. Wally Wolski
State Director of Wyoming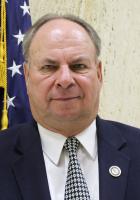 F. E. "Wally" Wolski serves as the State Director for USDA Rural Development in Wyoming.
As State Director, Wolski will use his leadership experience to oversee Rural Development programs in a customer-focused manner to restore prosperity in rural Wyoming.
Wolski is a retired independent insurance agent and lifelong farmer in the southeastern corner of Wyoming, residing near the small rural community of Yoder where he has been a farmer for nearly 40 years, beginning a farming operation after purchasing land from his parents in the 1980s. Due to rising interest rates, Wally diversified away from traditional crop and livestock practices by transforming his property into a migratory waterfowl preserve and upland bird sanctuary, and specializing in producing high-quality alfalfa for dairies on the front range of Colorado. His innovative and alternative strategies have allowed him to continue managing the family farm, while serving in many other civic activities.
Prior to stepping into this new role in 2019, Mr. Wolski has served as a publicly-elected Goshen County Commissioner where he also served as Chairman. His vast array of accolades include serving as a gubernatorial appointee to the ENDOW Executive Council, a 20 member think-tank tasked with developing a long-term strategic vision for diversifying Wyoming's economy. He was appointed by Wyoming's Governor Mead to serve as co-chairman of the Rural Council where he was an instrumental leader for insuring the 292,000 residents, living outside of corporate limit boundaries, were equally afforded access to all essential services and basic infrastructure. Wolski is a past-president of the Goshen County Economic Development Corp. and also vice-chairman of the multi-county Southeast Wyo. Economic Development District where he was proactively involved with a variety of local and regional economic development initiatives. In addition, he has 27 years of previous service on the board of directors of his local rural electric cooperative and is past president of the Wyoming Rural Electric Association representing the interests of 104,000 businesses, farms and ranches. Wolski has the distinction of being the 34th President of the National Rural Electric Cooperative Association, a nationwide advocacy organization established in 1942, instituting a unified voice on behalf of 42 million members and owners. His commitment to his community and rural Wyoming is unsurpassed.
Wolski proudly served our nation in the U.S. Coast Guard during the Vietnam conflict including 20 months aboard the Coast Guard Cutter Winona WHEC-65. He received the rank of E-5 before receiving an honorable discharge. Upon returning back home he attended Eastern Wyoming College. He is married to his wife of 41 years and the couple have two daughters.
Mr. Wolski's rich history serving his country in the military and in civilian public service, coupled with his life-long farming career, allow him a unique and valuable perspective that will enable him to effectively serve the rural communities of Wyoming.