The USDA Rural Development Business Center is a centralized business hub focused on customer service and business administration. The primary responsibilities of the Business Center include supporting Rural Development's mission-critical operations, streamlining key business functions and reducing costs through team-based and cross-functional approaches. As a centralized business hub, the Business Center is comprised of seven core offices:
Office of the Chief Operations Officer
Address: USDA Rural Development
Chief Operations Office
United States Department of Agriculture
1400 Jefferson Dr., S.W. Rm 240-E
Washington D.C. 20024
Operations Office
Chief Operations Officer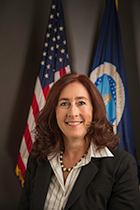 Angilla Denton currently serves as Rural Development's (RD's) Chief Operating Officer (COO).  In this role, Ms. Denton provides enterprise-wide leadership and management oversight for information technology, financial management, human resources, procurement and acquisition, property management, and related business administrative processes.

Ms. Denton has more than 20 years of management experience in both the public and private sector.  Prior to her role as COO, Ms. Denton served as the Civil Rights Director with responsibility and oversight of RD's nationwide Civil Rights and Equal Employment Opportunity (EEO) programs.  Since her arrival to RD in 2002, Angilla has served in multiple roles including: Loan Specialist, Area Director, and Administrative Program Director at the State level.    
 
Financial Office
Tony Bainbridge, Chief Financial Officer
Scott Williams, Deputy Chief Financial Officer
Chris Mechtly, National Finance & Accounting Operations Office Director
Peggy Javery, Compliance Operations Director
Linda Hamel, Administrative Budget Division Director
Technology Office
Mia Jordan, Assistant Chief Information Officer
Michael Gardner, Deputy Chief Information Officer
Human Resources Office
Eric Dilworth, Human Resources Director
Helene Saylor, Assistant Human Resources Director/Employee Services Division
Robin Talmadge, Acting Assistant Human Resources Director/Human Capital Management Division
David Root, Assistant Human Resources Director/ Employee and Labor Relations
Enterprise Office
Moraima Rivera, Chief Enterprise Officer
Angela Prioleau, Enterprise Office Chief of Staff
Julie Henderson, Enterprise Services Division Director
Ruth Lodder, Security and Emergency Management Division Director
Pam Younger, Management Services Division I Director
Sharon Randolph, Management Services Division II Director
Procurement Management Office
Lori Lloyd, Procurement Office Director
Scott Beckstrand, Strategic Acquisitions Division Manager
Brian Johnson, Contracting Operations Division Manager
Heather Mackenzie, Regional Acquisition Division Manager
Civil Rights Office
Dr. Sharese C. Paylor, Civil Rights Director