Image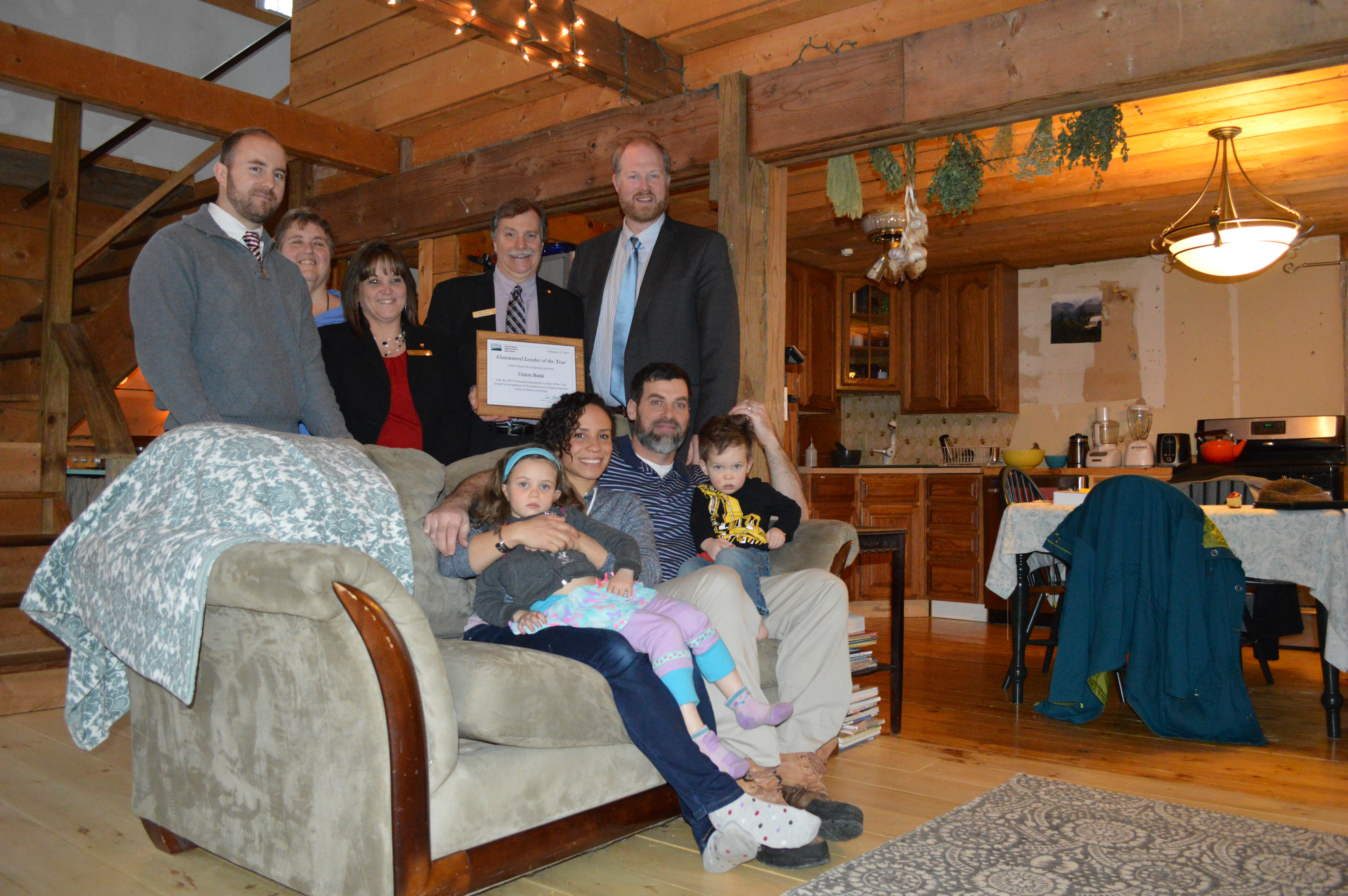 Union Bank received the U.S. Department of Agriculture's (USDA) Vermont 2015 Guaranteed Lender of the Year Award in recognition of the bank's dedication to rural home buyers. USDA officials presented the award at the Woodbury residence of Craig and Rachel Wilson who purchased their home one year ago through Union Bank using the USDA's Guaranteed Home Loan Program.
"The most effective way to ensure that young families call rural Vermont home is to provide them with an accessible and affordable avenue towards homeownership," said USDA Rural Development State Director Ted Brady, "The USDA's Guaranteed Home Loan Program removes financial obstacles that stand in the way of ownership, however, the program's efficacy depends on strong partners such as Union Bank whose local presence makes them an invaluable asset to the program, the families they work with, and to rural communities across the state."
A year ago, Craig and Rachel Wilson moved with their two young children into the first home they had ever owned.  Craig, a special educator at the Hardwick and Woodbury Elementary Schools, worked with Melissa Greene out of Union Bank's Hardwick branch to secure a home loan guaranteed by the USDA to purchase his family's Woodbury house.  In his recommendation letter, Mr. Wilson wrote, "From the moment I went into Union Bank it became clear to me that home ownership was an option.  Melissa was willing to take the time to walk me through the steps I would need to take to accomplish this lifelong dream."
In 2015, the USDA's Guaranteed Home Loan Program to help over 500 Vermont families like the Wilson's achieve that dream of home ownership.  The USDA program assists approved lenders in providing low and moderate-income households the opportunity to own decent, safe and affordable homes.  Union Bank has been a valuable partner of USDA Rural Development in Vermont loaning out over $12 million to help 89 families purchase homes through the USDA program.  Because of the numbers of families served and the positive feedback from customer's like Craig Wilson, Union Bank earned the USDA's Guaranteed Lender of the Year award for the third consecutive year.

USDA, through its RD mission area, administers and manages housing, business and community infrastructure programs through a national network of state and local offices. Rural Development has an active portfolio of more than $212 billion in loans and loan guarantees. These programs are designed to improve the economic stability of rural communities, businesses, residents, farmers and ranchers and improve the quality of life in rural areas. For more information on Rural Development visit the Vermont/New Hampshire Rural Development website (www.rd.usda.gov/nh or www.rd.usda.gov/vt ) or contact USDA RD at (802) 828-6000.