Three Families See Homeownership Dreams Come True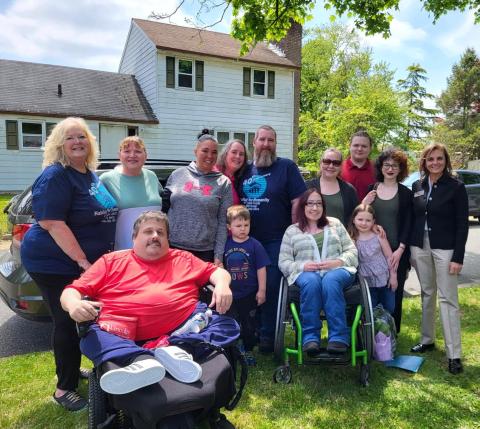 Carneys Point and Penns Grove, N.J., May 3, 2022 – Yesterday, two families broke ground on their future homes, and one saw their dream of homeownership come to fruition as their home was completed. USDA Rural Development State Director Jane Asselta joined Habitat for Humanity of Salem County Executive Director Sue Ann Leighty, along with officials, partners, and families, to celebrate the important milestones. The three families took part in Habitat for Humanity's program and benefited from a low-interest loan through the Rural Development Single-Family Housing Direct Program, making owning homes possible for the families who never thought they could.
The homes are three-bedroom, two-bathroom ranch style homes that are 1,250 square feet. The land was donated by the actor Bruce Willis as Carneys Point is his hometown. Each family completes 225 hours of sweat equity to build homes as a part of the Habitat program.
"USDA Rural Development is proud to make homeownership loans like the three we celebrated yesterday," said USDA Rural Development State Director Jane Asselta. "President Biden's challenge for New Jersey is to provide dozens more loans to rural residents in Salem County and across South Jersey.  It is because of partners like Sue Ann Leighty and Habitat for Humanity of Salem County, that I know we can meet this challenge."
The families who were celebrated yesterday include:
Latoya Johnson and her two children, Ne'asia and Marshan

are breaking ground on their new home in Carneys Point.  

Latoya, a hardworking single mom has worked diligently with Habitat for Humanity for three years on her homeownership goal. She took personal initiative in her life, showing up to work 30 minutes early and asking to help her manager at the end of the day. Her perseverance towards her career and homeownership has really paid off.  She stood out and was promoted by her employer, Walmart, and now is able to afford the home. Her daughter graduated with honors from the local High School and is attending the local community college, and her son is in grammar school. They ride by the build site daily and are very thankful to have been selected.  Her son is so excited to have a room large enough for a sleepover and a bean bag chair and desk. 

Walmart just purchased all the studs for the home and had a huge event at their warehouse to celebrate.

Marc "Bill" and Nicole Dennis are breaking ground on their new home in Carneys Point.

Ms. Dennis is in a wheelchair and their home will be constructed with handicap accessible features throughout. Ms. Dennis is especially excited about having a custom kitchen where she can bake and cook comfortably. The couple is also looking forward to having a time capsule buried on her property honoring the Bruce Willis family, who donated the land to her family.  


 

Jon and Tesa Crespo are celebrating the completion of their new home, in Penns Grove.

The Crespo's are hoping to give back to their community once they are settled into their new home. They are hoping to welcome foster children like how their families did while growing up. Tesa also fundraised for Habitat for Humanity when she attended Penns Grove High School. The high school, in turn, surprised the Crespo's with a desk from the students.  
USDA Rural Development and Habitat for Humanity of Salem County, NJ have a long and successful history of working together to help New Jersey families build their own homes. Since 2018, the partnership has resulted in ten homes for New Jersey families, helping them to own their own piece of the American Dream. The partnership is a good model utilizing the strengths of both organizations with USDA RD serving as the lender and Habitat for Humanity serving as the builder.
Contact USDA Rural Development:
USDA Rural Development's Single-Family Housing Direct Loan Program assists families who otherwise may not be able to afford homeownership. The program works by providing payment assistance to increase an applicant's repayment ability at a fixed rate for 33- and 38-year terms. For more information on this and other USDA Rural Development housing programs, visit Single Family Housing Programs | Rural Development (usda.gov) or contact the New Jersey Housing Programs staff at 856-285-7679 or nj.direct.origination@usda.gov.
If you'd like to subscribe to New Jersey USDA Rural Development updates visit our GovDelivery subscriber page or follow us on Twitter.
###
USDA is an equal opportunity provider, employer, and lender.