Name
Meredith Mingledorff
Today, U.S. Department of Agriculture Rural Development State Director for Nebraska Kate Bolz hosted a virtual media engagement with seven partners who are helping USDA RD make climate-smart investments in the state. 
Joining Bolz at the event were: Utility Superintendent for the Village of Edison Kent Tidyman, Nebraska Rural Water Association Circuit Rider Randy Hellbusch, Director of Petroleum for Bosselman Enterprises Zac Griess, Nebraska Ethanol Board Administrator Reid Wagner, Lincoln Earth Day Coalition Committee Member Amanda Gangwish, USDA RD Community Programs Director Kelley Messenger, and USDA RD Energy Coordinator Jeff Carpenter.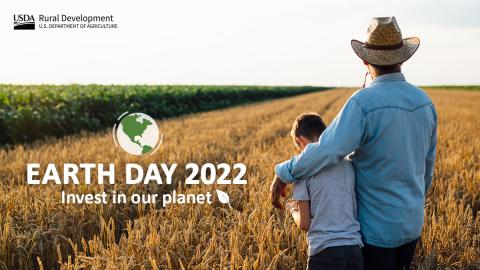 "One of USDA's top priorities is combating climate change to support America's working lands, natural resources, and communities," said Bolz. "We are implementing solutions by investing in climate smart projects that improve quality of life while reducing energy consumption and ensuring clean water for Nebraskans. Part of the purpose of today's event is to illustrate and demonstrate the success of such projects statewide and invite others to join us."
From the Village of Edison, Kent Tidyman explained the use of USDA RD funding to switch the village's wastewater from a mechanical system to a full retention lagoon system to prevent discharge of sewage into freshwater. He went on to say this is an ideal way to manage wastewater and protect Nebraska. 
"This will positively impact our residents by reducing operating costs, protecting the environment, and we won't need to worry about chemicals and other unhealthy substances entering our water ways," said Tidyman.  
Randy Hellbusch, with the Nebraska Rural Water Association praised utility workers like Tidyman and said clean, working utilities are often taken for granted.
"The true heroes are the guys that do it every day," said Hellbusch. "They keep our water safe to drink. They clean our wastewater. They improve our water. If everything is working the way it should they don't hear anything from anyone, and that's a good day." 
Hellbusch travels extensively around the state consulting with rural communities about their water systems and water needs. He conducts rate studies, locates equipment and lines, and prides himself on the association's technical assistance to keep communities in compliance. 
"Water is a critical resource for every community, especially in times of natural disaster," added Kelley Messenger. "USDA supports the responsible stewardship and development of rural water resources through Rural Development's Water and Environmental Program via the Community Programs Division. This assistance can mitigate health risks and increase access to safe reliable drinking water and sanitary waste disposal."
USDA RD is not only investing in water projects to protect the environment but is focused on increasing renewable and clean energy as well. One program available is the Higher Blends Infrastructure Incentive Program. 
Designed to significantly increase the sale and availability of higher blends of ethanol and biodiesel, USDA RD has made up to $100 million in competitive grants available for activities designed to expand the availability of renewable fuels. In Nebraska, Bosselman Pump and Pantry was awarded one of these grants in the amount of $1 million to upgrade 11 Pump & Pantry retail fuel stations to offer higher blended fuels such as E15, E30, and E85. 
"We feel it is better fuel," said Director of Petroleum Zac Griess, Bosselman Enterprises. "It's more cost effective for our customers and to be more climate friendly and reduce negative impacts on the Earth, we are hoping to add more and sell more higher blended fuel." 
"Ethanol has a lot of widely proven benefits to the environment," said Ethanol Board Administrator Reid Wagner. "It is a very clean burning fuel, saving on average about 46 percent of carbon particulate matter and greenhouse gas emissions when compared to regular gasoline. Ethanol not only reduces emissions from the tailpipe of your car, but through the process of creating fuel itself…From that renewable source it creates a really nice cyclic environment reducing emissions by about 50 percent when compared to creating gasoline itself."  
Amanda Gangwish, a volunteer with the Lincoln Earth Day Coalition Committee, thanked the speakers for their climate conscious work and invited the audience to attend Lincoln Earth Day at Innovation Campus in Lincoln this Saturday from 10 am to 2pm. 
"Earth Day brings people together to celebrate and featured in this year's event will be live music from Chris Lager and a panelist discussion focused on ways to live sustainably at home. We'll have an interactive kids' corner and food trucks. Rain or shine, indoors or outdoors, we hope to see you this Saturday to celebrate Earth Day. For more information on this free event, check out our website at Lincoln earthday.org or visit our Facebook page at Lincoln Earth Day," said Gangwish. 
Bolz confirmed she will be at the Lincoln Earth Day event and said, "We are so pleased to partner with organizations all across the state to implement climate smart strategies. From North Platte to Broken Bow to O'Neill to right here in Lincoln we encourage you to connect with us to invest in climate smart solutions. Under the leadership of President Biden, Vice President Harris, and Secretary Vilsack, USDA is putting rural America at the heart of climate smart strategies."

Under the Biden-Harris Administration, Rural Development provides loans and grants to help expand economic opportunities, create jobs, and improve the quality of life for millions of Americans in rural areas. For more information, visit www.rd.usda.gov/ne. 
If you'd like to subscribe to USDA Rural Development updates, visit our GovDelivery subscriber page.
USDA is an equal opportunity provider, employer, and lender.