Name
Meredith Mingledorff
USDA Rural Development State Director Kate Bolz attended Kimball Health Services' Groundbreaking Ceremony in Kimball, Nebraska, today, where officials kicked off a $43.6 million hospital project to replace a 70-year-old facility. 
USDA RD funded part of the project with $34.2 million in Community Facilities Direct Loans. The new 61,200 square-foot hospital will be constructed on former West Elementary School property, located two blocks from the current facility in Kimball. Completion is expected in Fall 2023.
"Access to hospital care not only saves lives, it saves brain function, it saves mobility, and it saves quality of life. Especially in rural America, access to health care is essential, not only to the well-being of patients, but to the well-being and vitality of the community. Today's event represents all of these things: saved lives and saved futures," said Bolz.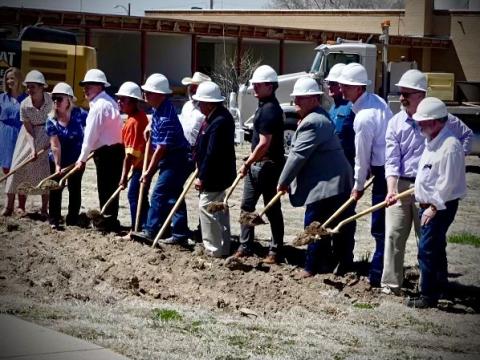 Kimball Health Services CEO Ken Hunter focused on the hospital staff and their ability to take local healthcare itself to a new level. 
"The hospital of the future is more than bricks and mortar," Hunter said. "They alone don't make a great hospital.  People do. Up-to-date facilities matter a lot, but what matters most is the people staffing the hospital and operating the equipment.  I'm extremely proud of our health providers and the entire hospital staff and believe they're more than up to the challenge," said Hunter. 
"I'm proud to be a part of this important work," added Bolz. "I know today's success represents hours of effort from USDA staff, leadership, and community members here. More importantly, I know it represents a doubling down on this heartland community, it represents our shared belief that rural America is hometown America. It represents our spirit and character of caring and tenacious people who invest in ourselves and our communities." The new Kimball Health Services will feature an in-patient wing housing 14 patient beds, a specialty clinic, a rural health clinic, and improvements to numerous departments. This investment will benefit the health and safety for at least 6,207 residents in the area for years to come. 
Patients can expect more private patient areas, larger inpatient rooms and bathrooms, wider corridors, in-house magnetic resonance imaging and computed tomography scanner services, and numerous other improvements. It will also provide space for additional services including mammography, cardiac rehabilitation, chemotherapy infusions, orthopedic procedures and expanded surgical options. An expanded physical therapy department will include a walking track and kitchen for home-based activity therapy; and an expanded Emergency Department, will boast a covered ambulance bay, a helipad, and numerous other improvements. 
General contractors Haselden Construction Co. of Centennial, Colorado will start at the site after June 1.
Community Facility Direct Loans from USDA RD provide affordable funding to develop essential community facilities in rural areas. An essential community facility is a facility that provides an essential service to the local community for the orderly development of the community in a primarily rural area. Public bodies, community-based non-profits, and federally recognized tribes with no more than 20,000 residents are eligible to apply.
For more information, visit www.rd.usda.gov/ne, or contact a Nebraska specialist by phone: 
North Platte Office – Sara Pierce (308) 221-3689
Kearney Office – Dave Fulton (308) 455-9844 or Kaleb Browning (308) 455-9838
Norfolk Office – Anthony Guenther (402) 371-5350 ext. 120 or Marla Ourada (402) 437-5598
Lincoln Office – Marshall Stephens (402) 437-5732 or Niki Dittmer (402) 437-5737
 
To subscribe to USDA Rural Development updates, visit  GovDelivery subscriber page.
USDA is an equal opportunity provider, employer, and lender.