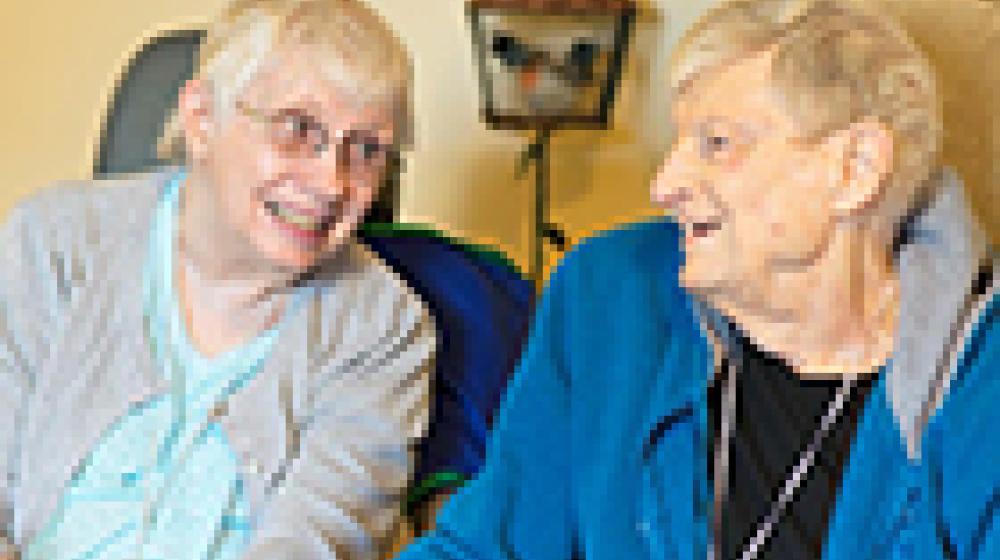 After nearly 40 years of marriage, Carol and Richard want nothing more than to stay together, but their respective health challenges make it increasingly difficult.  She suffers from the physical toll of living with ALS for more than 20 years and he is surrounded by a deepening fog of dementia. Fortunately, the Hancock County Nursing Home Association, located in Carthage, Illinois, is combining its new memory care facility with an even newer "small house" concept that will allow them to stay together in a unique family-style setting.
Heavily funded through Rural Development programs, the new facility is actually two separate buildings, each with 10 units, for diagnosis-based brain injury and dementia patients.  So that Richard and others with cognitive impairment can wander without restriction and still be safe, all units are placed on the periphery with the common area, or core family area, located in the center.  The outdoor patio is also enclosed.  Lots of natural sunlight helps the residents maintain their natural bio-rhythms while activities are focused toward memory and keeping the mind active.
As part of the small-house concept, the same staff member cleans, cooks and serves the meal family-style around a single table; residents can chat across the counter as the meal is prepared. Carol and Richard can share a bedroom or, if Richard becomes too restless, they can have separate bedrooms so that she continues to receive the rest she needs.  To help the staff better understand the behavior of the residents and perhaps even recreate individual routines, family members are videotaped talking about who the patient was when they were healthy and what they liked.
The new Maple Grove Memory Care is across the street from the Hickory Grove Apartments for assisted living.  It represents a new model of supportive care that is less expensive than nursing home care– and a way for people like Carol and Richard to stay together.
Obligation Amount:
$3.5M (REDLG-$1M loan/$300,000Grant, Community Facilities Direct Loan $2.2M
Congressional District:
Representative Schock, District 18