Contact
Christopher Stewart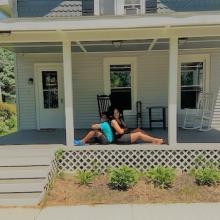 Purchasing your first home is both exciting and challenging.  But, navigating a loan closing with over $20,000 in rehabilitation work during a pandemic certainly requires persistence and support.  This was no problem for this multi-tasking essential health care worker and single mom!  
   Norbelisa Ramos and her son were committed to moving into their new home by May 2020 and did so with the support of USDA Rural Development and Rural Ulster Preservation Corporation (RUPCO).  Working creatively to obtain contractor estimates and coordinate a socially distanced closing, Ms. Ramos closed on her Section 502 Direct Loan on May 7, 2020.  
   Ms. Ramos and her son love their new home, located in Wallkill, NY which included electrical and plumbing upgrades, a new roof, soffits, gutters and fire rated sheet rock above her boiler.  RUPCO provided the funds to make these repairs, upgrades and cover her closing costs, while USDA Rural Development provided the funding for the purchase of the home. 
   With Homeownership Month being her first payment month, Norbalisa Ramos sent USDA staff an email which read, "Good Afternoon Ladies, I just made my first mortgage payment. I still feel like I am dreaming!! I have never seen my son so happy. Thank you for helping our dream come true! I appreciate your hard work and dedication!"
   "This is what Rural Development is all about," said NY State Director, Richard Mayfield."By assisting those eligible rural residents and stakeholders achieve their dream of homeownership -- we help rural communities all throughout our state grow and thrive. At USDA Rural Development we believe that when rural America thrives, all of America thrives."
Obligation Amount
$177,000
Congressional District
Rep. Antonio Delgado NY-19
Senator's Last Names
Schumer, Gillibrand