Homeownership
Homeownership Month 2022
Housing
Rural Development
Tribal
Underserved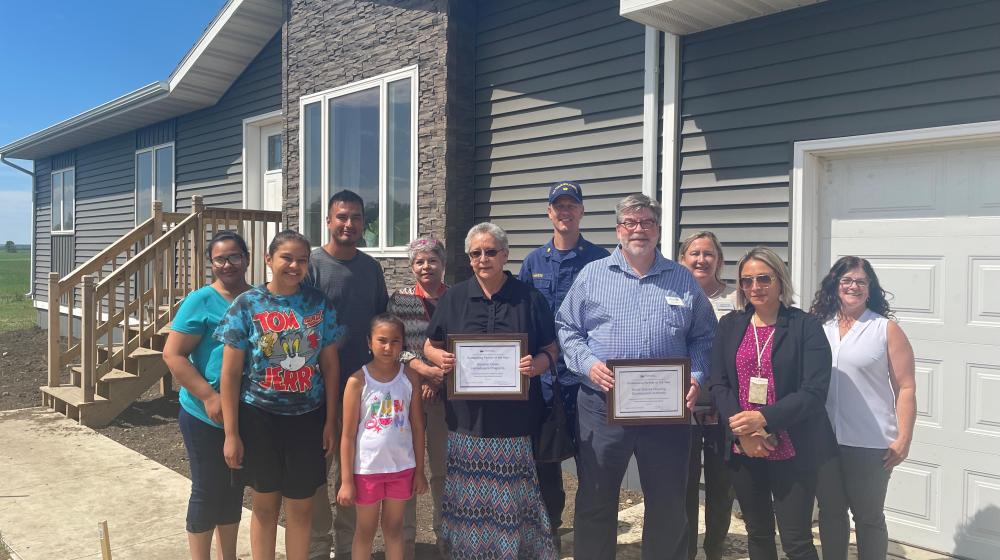 Buying a house can be a daunting process for anyone and it's easy to become discouraged or overwhelmed, but for one South Dakota family, perseverance paid off for their long journey to home ownership.
Brian and Catherine Bartunek wanted a place to call home for their three children. Their plans to live on the Sisseton-Wahpeton Oyate Reservation began in 2011. However, building on tribal land can come with a unique set of challenges. A site needs to be selected, approved, and leased from the Bureau of Indian Affairs, water and sewer must be installed, and a general contractor selected to build the home. Adding to the complexity, the Bartuneks were both attending college while raising their young children.
By July 2019, with their land leased and water and sewer lines in place, they were ready to begin the home buying process. Then the pandemic hit.
Brian and Catherine pressed on. The Bartuneks were able to secure financing through a combination of loans and forgivable mortgage from Rural Development's Single-Family Housing Direct Program, Native American Homeownership Initiative funds through the member bank of Dacotah Bank, Housing Improvement Program funds though the Bureau of Indian Affair, Homes are possible Inc., and the Sisseton-Wahpeton Oyate Homebuyers Program. Y Tamine & Angie Johnson helped the family through the process. The South Dakota Housing Development Authority built the Bartunek's home under the Governor's House Program.
"Angie from T Yamini made it feel like she was doing all the work," said Brian. "Her communication was so good, and she taught us a lot as we went through the steps, so we knew what to expect."
Brian and Catherine were told about Rural Development and worked with the Single-Family Housing team to secure additional funding to finalize the purchase of their home.
"Roxanne and the Rural Development team were so knowledgeable, which made filling out the paperwork so much easier," said Catherine. "We had the freedom to do what we wanted as homeowners, and our kids were so excited to have their own rooms."
Just before Christmas in 2021, the home was complete, and Brian and Catherine moved their growing family into their new home.
"This is another tremendous example of how USDA can assist families with becoming homeowners," said USDA Rural Development South Dakota State Director Nikki Gronli. "USDA looks forward to working with our local partners and stakeholders to help rural families grow and proposer with the support of grants, technical assistance and affordable financing."
Obligation Amount:
$108,800
Date of Obligation:
August 18, 2020
Congressional District:
Johnson