Civil Rights Policy Statement
USDA's Civil Rights Policy Statement is issued by the Office of the Assistant Secretary for Civil Rights.  To file an EEO complaint, visit our online Equal Opportunity eFile Module. For questions on issues or how to file a complaint you may contact the Rural Development Civil Rights staff or call them at 1-800-787-8821 .
You may also direct fair housing complaints to the Department of Housing and Urban Development (HUD). For more information call 1-800-669-9777 or visit HUD's webpage at www.hud.gov.
Training Materials
Important Documents
Civil Rights Staff
Acting Director of Civil Rights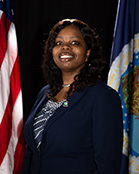 Sharese C. Paylor serves Rural Development as the acting Director of Civil Rights and has responsibility and oversight of Rural Development's nationwide civil rights programs and employee engagement/development.
Ms. Paylor monitors compliance reviews in accordance with Title VI Civil Rights Law, ADA, Section 504 of the Rehabilitation Act of 1973, and a host of other civil rights laws, regulations, and executive orders. In addition, Ms. Paylor provides technical assistance to both internal and external customers.
Prior to her current position, Ms. Paylor was an Equal Opportunity Specialist with the U.S. Department of Housing and Urban Development (HUD), Office of Fair Housing and Equal Opportunity. Before working at HUD, she was the Supervisor for the State of Delaware Division of Human Relations.
Ms. Paylor has received a Federal Fair Housing Investigator certification from HUD. She is a certified Real Estate Fair Housing Law Instructor for the Delaware Real Estate Commission. She serves as a trainer, facilitator and a motivational speaker.
She graduated with distinguished honors from Wilmington University, with two Master of Science degrees in Public Administration and Human Resource Management. Ms. Paylor is currently pursuing her Doctor of Education in Organization Leadership and Innovation from Wilmington University. Additionally, Ms. Paylor is a member of the Phi Theta Kappa and Delta Epsilon Rho National Honor Society.
Ms. Paylor also serves on several other professional/community boards. Sharese has been committed to equal rights of all people for over thirty-seven years, and will continue to do so.
Limited English Proficiency Information
LEP persons are individuals who do not speak English as their primary language and who have limited ability to read, speak, write, or understand English.  LEP statues and authorities prohibit exclusion from participation in, denial of benefits of, and discrimination under federally assisted and/or conducted programs on the ground of race, color, or national origin.
Title VI of the Civil Rights Act of 1964 prohibits discrimination on the basis of national origin covers program access for LEP persons.  These protections are pursuant to Executive Order 13166 entitled, "Improving Access to Services by Persons with Limited English Proficiency" and further affirmed in the USDA Departmental Regulation 4330-005, "Prohibition Against National Origin Discrimination Affecting Persons with Limited English Proficiency in Programs and Activities Conducted by USDA" and the RD LEP Plan.
It is RD policy to provide equal opportunity in all programs, services, and activities to LEP persons.  The Department of Justice's LEP Guidance provides agencies with a framework to assess agencies' LEP services.  To assist RD in complying with all applicable LEP laws, regulations, rules, and policies, you may view the following documents: