Homeownership
Housing
Native American
Rural Development
Tribal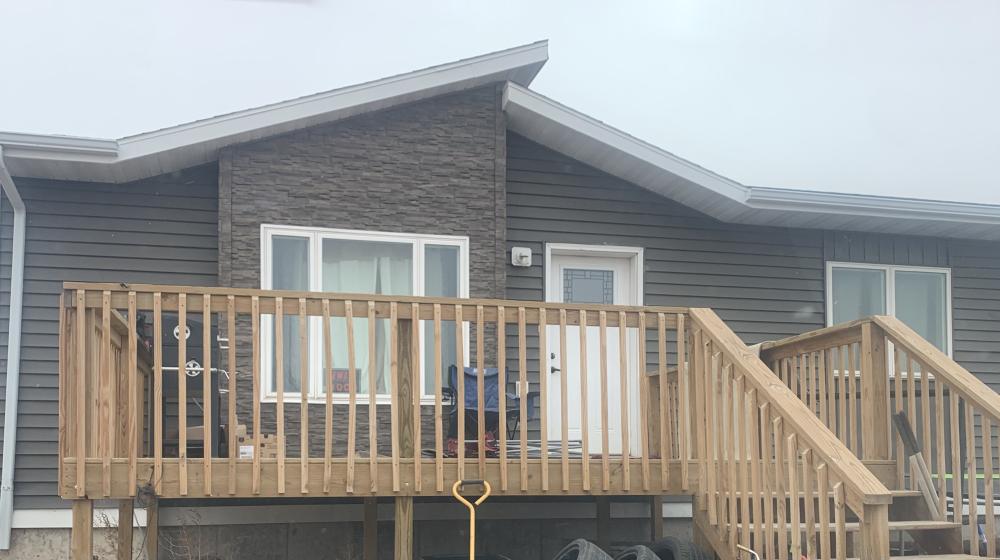 The journey to homeownership is often filled with anxiety, unknowns, frustrations and eventually excitement as you move into your home. For Shalyn Janis, this journey began in 2018. She had been trying to buy a home for a while when she heard about USDA's Native Relending, or 502 Direct Loan program.
"I tried everything possible to get a house. Then a coworker told me about Mazaska's program," said Shalyn. "I applied and I just kept going forward with everything they asked me to do and just kept being positive about it."
Shalyn's dream of a home for her three children was becoming a reality. As she focused on improving her credit, she learned about the Governor's Home program. Her family decided on a three-bedroom, two-bathroom design.
"It took about five months for them to build my home and deliver it," said Shalyn. "They were building it during COVID, so if someone got sick, they'd have to shut down for a week then start back up."
The family of five moved into their new home in early 2022.
"It was really exciting. It was kind of unreal because stuff like that just doesn't happen to us," said Shalyn. "We can't believe we have a house. Our little family of five lived in a FEMA trailer and it was so tiny and now we own a big house."
Shalyn and her partner are grateful for the opportunity to have a safe, secure home for their three children. She adds she no longer worries about hailstorms and tornadoes because they have a basement for a safe haven during severe weather.
The Janis family also is grateful for the staff at Mazaska Owecaso Otipi Financial. Shalyn laughs as she recalls how often she checked in with her loan specialist, Stephanie.
"I probably called her five times a day asking if I'm going to get it or is it still coming. I called just to see if there was an update," said Shalyn.
The Mazaska team provided education and guidance on improving the family's credit and guided them through the steps needed to purchase their new home.
Mazaska has assisted seven families secure low interest home loans through the Native Relending Program since 2018, with two additional borrowers expected to be financed using funds from the recently-announced $1 million Rural Development investment.
Mazaska's Loan Officer Stephanie Provost also credits the success of the program to the Rural Development team who helped her understand how to process a home loan under this program.
"At first it was overwhelming, but the loan specialists in Rural Development made it so easy and told us what information we needed to gather," said Stephanie.
Stephanie also said they've built strong relationships with the community.
"They're comfortable coming to us if they're having a hard time," said Stephanie. "We've worked hard to educate and coach our borrowers, and because of that, everyone has stayed current on their payments."
The Native Relending Program offers home buyers the opportunity to become financially stable.
"This is beyond owning a home," said Nikki Gronli, South Dakota state director for Rural Development. "It's a way to build generational wealth and strengthen finances for the future."
Homeowners have felt a greater sense of pride since purchasing their homes and Stephanie added the families feel they have security for their families now and for generations to come.
Mazaska has seen increased interest in the Native Relending Program as more potential borrowers are asking how to get started. She adds that people like Shalyn have helped spread the word.
"I refer people any chance I get," Shalyn said. "I feel pretty happy that I got to share my experience and information with them."
"Seeing what it does for families is the ultimate reward," said Stephanie. "I grew up not knowing what options existed to buy a home on the reservation. I would encourage anyone to apply because homeownership is achievable."
To learn more about USDA's Native Relending program, visit the Single Family Housing Direct Home Loans program page or Mazaska Owecaso Otipi Financial.
Obligation Amount:
$800,000
Date of Obligation:
May 29, 2020
Congressional District:
Johnson