Business
Grants
Value Added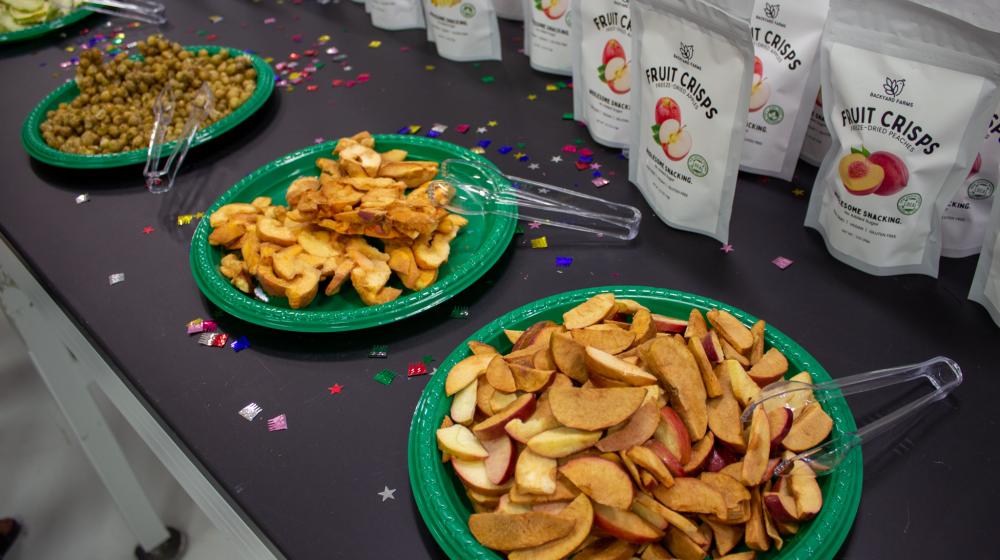 Rachael Ryan is a life-long farmer from southern New Mexico. Over the years she's seen the ups and downs of her farming business called Back Yard Farms. --And she especially knows about the downs that come as an ag producer.
She loves farming, but she knows farmers are at the mercy of mother nature, because she says you're one hailstorm or drought away from sending your profits into a tailspin. 
Because of these types of unforeseen circumstances, Ryan had been looking for a better way to get her produce to the market. Then one day after a lot of research she realized freeze drying may be the best solution.
Freeze drying fruits and vegetables retain freshness, nutritional quality, taste, shape and size all without refrigeration, --and you can also salvage some damaged or drought impacted produce.
But most importantly, the freeze-dried fruits and vegetables produce a healthy, shelf-stable product to consumers in the specialty food market.
To start her business, Ryan bought a single freeze dryer to see what it entailed to create freeze dried food. Once her self-teaching on the equipment was completed, she applied for and received a $75,000 Value Added Producer Grant (VAPG) from USDA Rural Development. The money was used to purchase commercial grade freeze dryers. This allowed her to expand and sell more of her freeze-dried produce to the public as a specialty food.
Soon word about her success spread among farmers. –Especially those farmers that had produce that was damaged by a hailstorm or drought. It was at this point, Ryan saw an opportunity to help other farmers by buying their produce while at the same time expanding her freeze-dried food business.
For example, the drought in 2022 wreaked havoc with farm production throughout New Mexico. One day a farmer came to her and asked if she would buy his nopalitos or napoles also known as prickly pear cactus which is both a fruit and a vegetable.
Although the nopalitos are cheap and easy to grow the farmers growing them were hit hard with Covid-19 and drought. Because of these facts farmers were losing a lot of revenue because they were having a difficult time harvesting the nopalitos.
Ryan bought what the farmer could sell to her. And, soon she was buying more napoles from other farmers because there was a demand for the freeze-dried prickly pears.
Initially she did a taste test of the nopales at boutique stores in Santa Fe and since then they've become a featured item at those businesses. 
Ryan says the nopales are popular because, "The freeze-drying process kept the nopales flavor and everyone loves the taste of these prickly pear chips."
Another example of how she helped another farmer was when he approached her to buy his harvest of apricots.
She said, "His crop got hit hard with a hailstorm. The apricots had scratches and dings and they didn't look appetizing, and because of the way they looked he would have never been able to sell them."
Ryan bought the apricots, and the imperfections were soon removed, and the fruit was sliced and freeze dried. According to Ryan the freeze-drying process makes the apricots more delicious and sweeter ultimately making them better tasting and easy to sell.
Ryan is now preparing for the future. She has reapplied for a Rural Business Development Grant (RBDG) and Value Added Producer Grant (VAPG) from USDA Rural Development to purchase more freeze drying equipment which will allow her to expand her business.
Currently, she's talking to the city of Las Cruces to get a bigger facility because of her anticipated business growth. Also, she would like to develop a commercial kitchen at the new facility to freeze dry and sell more food.
Ultimately, she wants to market the freeze-dried food to the Federal Emergency Management Agency (FEMA), Red Cross and church groups. Because the food doesn't need refrigeration it's a natural to be distributed to people displaced by a disaster and to the first responders who need healthy food to keep up their strength when they respond to a disaster.
Ryan believes the need for these types of food products will increase because of food insecurity throughout the country. She's encouraged to see her business grow because she knows freeze drying food will help feed the hungry. She wants to provide food to communities that are declared as a food desert. This is an area that has limited access to affordable and nutritious food.
She sees there is a need because she was recently approached to provide freeze dried food to food banks here in New Mexico. This also encourages her to provide freeze dried food to Native American Tribes and to the military because the packaging is ideal, and refrigeration is not required.
Ryan is proud of the fact her freeze drying business is touching many people in many positive ways. She's happy she can help farmers earn revenue from product they would have otherwise lost, to providing food across the state to people who need good healthy food. Ultimately, she says this creates a bigger demand for New Mexico grown crops, something she has a passion for.
Obligation Amount:
$75,000
Date of Obligation:
May 29, 2020
Congressional District:
Herrell NM 2nd