Homeownership
Homeownership Month 2022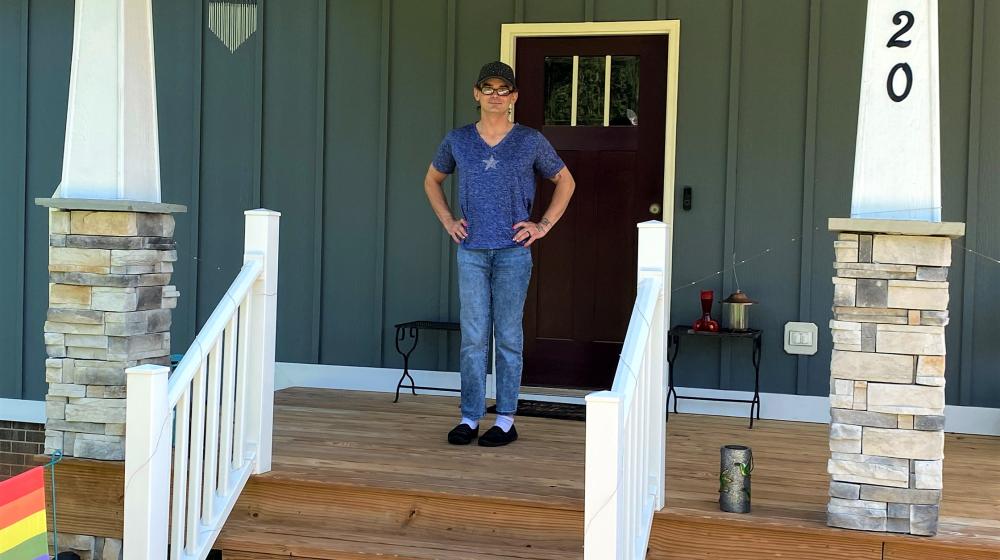 Matthew Romig never really saw themselves as a homeowner, or if they did, the visions they had were of a small one- or two-bedroom house with little to no land.
"I still wake up sometimes wondering where I am, really it's weird. I mean, I've lived all kinds of places," Matthew said.
Prior to purchasing their 1,700 sq. ft., 3 bedroom/2 bath home with three acres of land, Matthew and their partner were living in a hotel for a year. Joking that their neighbors always changed, the financial burden it left on them was no laughing matter. Paying more than $1,400 a month to live in a hotel room, they knew something had to change. In 2019, they began searching for loan programs that they might qualify for. After receiving little to no support and rejection after rejection during that first year, Matthew met USDA Rural Development (RD) Virginia Loan Specialist, Cierra Hackett.
Cierra educated Matthew on RD's 502 Direct loan program and thought it could greatly change their circumstances. Living in a hotel didn't offer Matthew the opportunity to save for a down payment, and a poor credit history were some of the obstacles they had to overcome.
Matthew said, "I spent probably 30 years trying to destroy my own life and hanging around people that didn't have my best interests at heart. So, I had to build all that back up myself and realize that I needed to change, or I wasn't going to be around anymore."
The support of Cierra and the 502 Direct Loan Program offered Matthew a sense of freedom, pride, and accomplishment.
"I put a lot of work into getting myself here," Matthew said. "I did a hell of a lot of work to get myself out, and I know I wasn't the only person. There's plenty of people along the way that helped me."
RD's 502 Direct Loan Program, formally known as the Single Family Housing Direct Home Loans program, provides a path to homeownership for low- and very-low-income families living in rural areas. The program does not require a down payment and offers a low interest rate. 
Officially purchasing the home in June of 2021, Matthew uses the month of June to reflect on how far they have come, not just as a homeowner but as a person. June not only celebrates National Homeownership Month, but also Pride Month.
"Part of my search for a house was me coming to terms with myself and coming out two years ago at the end of June. To be able to buy a house and to be able to celebrate those anniversaries every year in the same month is just amazing," Matthew said.
When reflecting on what this journey has meant, Matthew added, "It means there are people who care about helping everyone and that'll do what they can to make sure you're doing what you need to do to get yourself on the right track."
RD Housing Programs bring security, pride and joy to numerous families across rural Virginia. Providing these affordable homeownership opportunities promotes prosperity, which in turn creates thriving communities and improves the quality of life in rural communities. Why not explore which RD programs might benefit you and your family?
Obligation Amount:
Direct Home Loan
Date of Obligation:
May 26, 2021
Congressional District:
5th