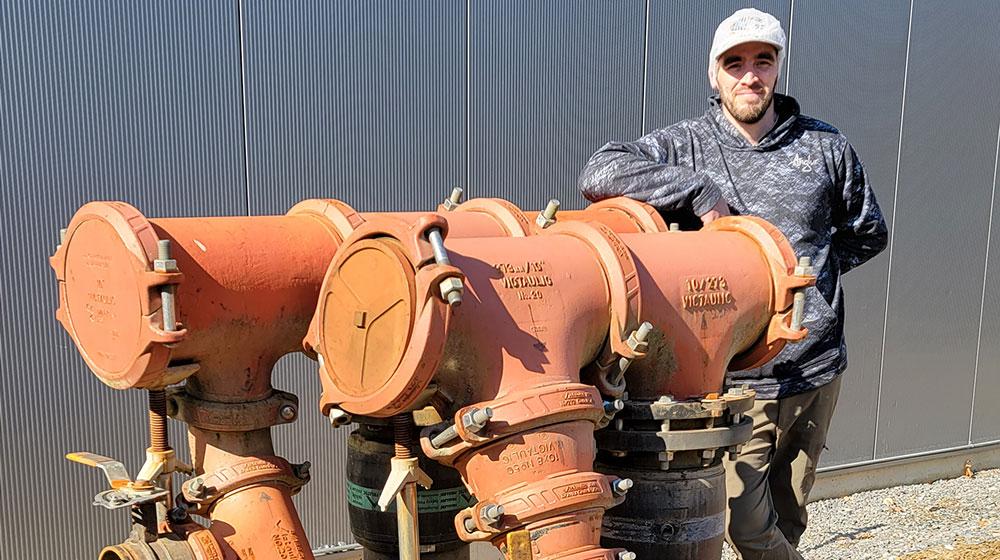 Pictured above: Maintenance Manager Steve Case with the input hookups for the chiller outside the greenhouse. The cooling manifolds that are fed by the chiller are just inside the greenhouse.
Paul Sellew, a founder of Backyard Farms, had mastered the growing and distribution of greenhouse-grown tomatoes. He had a vision to provide locally grown salad greens that were available year-round. In 2015, Paul began to research the best lettuce growing systems, and used his knowledge to design the most sustainable technology for growing lettuce in New England. Together with Tim Cunniff, a former EVP of Sales and Marketing from Backyard Farms, they worked to line up customers for the first of their 10-acre greenhouse development for Little Leaf Farms. 

Little Leaf Farms was using a less efficient portable air cooled chiller during the warmer months to cool the greenhouses. A major cost of controlled environment agriculture production includes energy costs related to heating, lighting and cooling, which represents an estimated 20 percent of production costs.
Rural Development stepped in and awarded $38,471 in grant funding under the Renewable Energy for America Program, for the purchase and installation of a new more efficient variable frequency drive modulating air cooled chiller for the greenhouse. This project is expected to save Little Leaf Farms $51,341 per year and will replace 798,472 kilowatt-hours per year, which is enough energy to power 73 homes!

Little Leaf Farms Data Scientist Janet Carpenter said, "With USDA's support, we will replace the use of inefficient chillers with more efficient variable frequency drive modulating air cooled chillers, which we expect will increase efficiency by over 50% per ton of refrigeration."

Replacing their current chiller with a more efficient variable frequency drive modulating air cooled chiller will not only save on costs and energy, but has the potential to reduce greenhouse gas emissions- a goal that Little Leaf Farms continuously strives to accomplish.
Obligation Amount:
$38,471
Date of Obligation:
July 28, 2021
Congressional District:
03