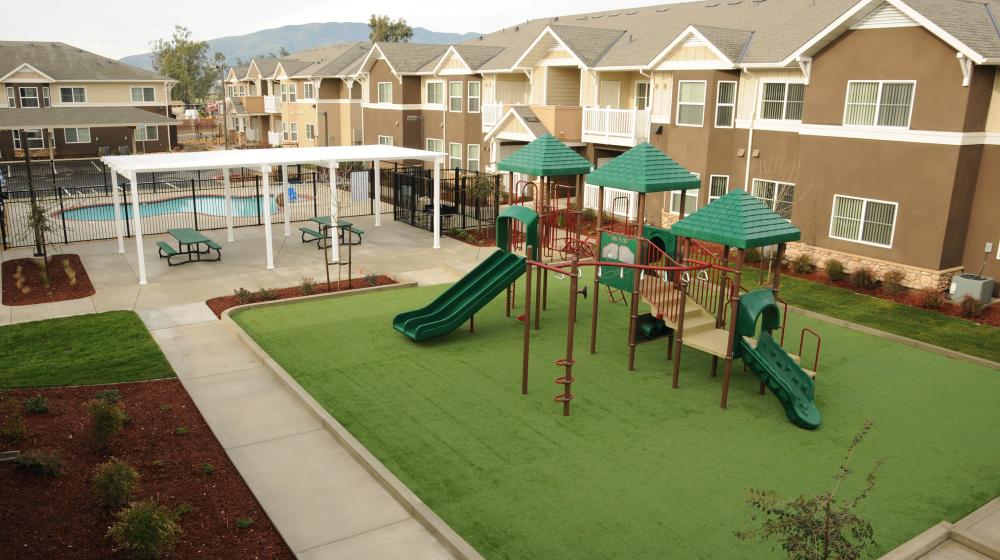 The City of Greenfield in rural Monterey County is centered in one of the most productive agricultural areas in California. The Salinas Valley produces a majority of the salad greens consumed in the U.S. in addition to several other crops including strawberries, tomatoes, broccoli and celery. With agriculture dominating the region, the need for safe, affordable housing for farm workers is especially high.
To help meet this demand, a new 41-unit apartment complex for farm workers was constructed in Greenfield. The $11.4 million project was financed in part with a $3 million Farm Labor Housing loan and a $700,000 loan guarantee from USDA Rural Development. Bonneville Mortgage originated the $700,000 loan and $7.7 million was provided in tax credit equity. Rural Development is also providing Rental Assistance for 40 of the units ensuring that tenants do not have to pay more than 30 percent of their income on rent.
The new apartment complex, Terracina Oaks, is comprised of five two-story garden style residential buildings and a community building. The community building features a computer learning center, laundry facilities, community kitchen and a multi-use room. Residents can enjoy family gatherings in the common recreation areas, including a covered picnic area, swimming pool and centrally located outdoor play area with a variety of playground equipment for kids. Each building provides bicycle storage and covered parking.
Within the units, residents will benefit from energy and water efficient appliances including refrigerators, exhaust fans, dishwashers, garbage disposals, microwaves and ranges with ovens. As well, each unit has a secure storage area and hook-ups for washers and dryers.
Obligation Amount:
Loan $3 million, Loan Guarantee $700,000, Rental Assistance
Congressional District:
Farr - 20