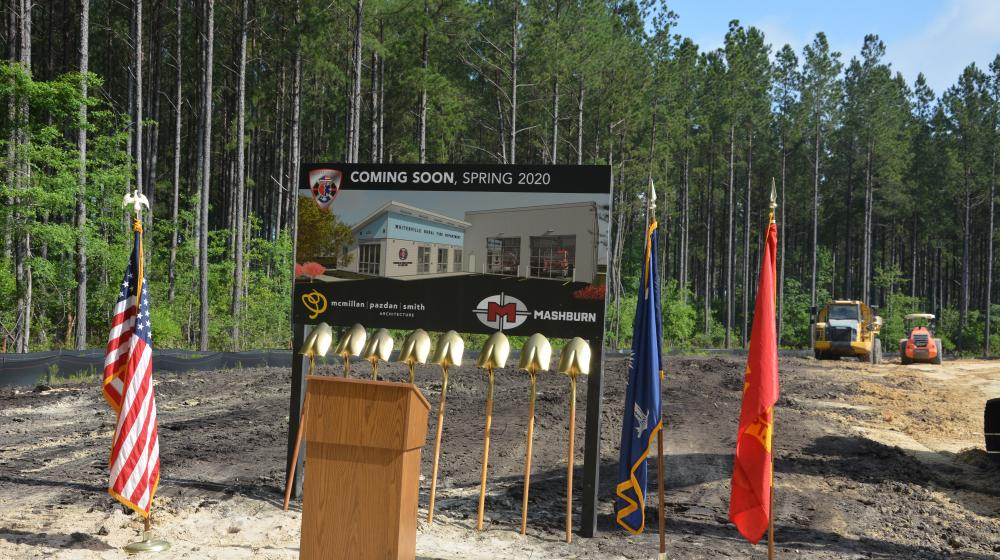 A ground-breaking ceremony was held on May 22, 2019 for the highly anticipated Cane Bay Fire Station.  Local leaders and members of the community gathered at the site to celebrate the official ground breaking for the Whitesville Fire and Rescue Headquarters Fire Station.  The 5,680 SF structure will house the fire station along with an additional 3,712 sf for the fire trucks.  When completed, the Fire Station will feature a conference room, offices, bunk rooms, kitchen, showers, locker rooms and a decontamination room. 
The project has been discussed for well over a decade and as the area expanded, the immediate need increased.  Initially a substation was in the plan, however the decision was ultimately made to build a larger headquarters building.
 "We are thrilled to be here on behalf of Rural Development celebrating this Community Facilities project.   The USDA, RD Community Facility loan funds of nearly 3.3 million dollars will be utilized to construct the new fire station in Cane Bay Plantation.  The new fire station will have over 8,000 sq. ft. and will provide state of the art fire protection to this growing area," said Stephanie Bittiker, Public Information Officer for the South Carolina USDA Rural Development (RD) Agency.
The fire station will provide services for nearly 17 thousand homes in the surrounding area.  Quicker response time will benefit the surrounding area and will also lower insurance costs for those who live nearby.  The Fire Station is projected to be completed in the spring of 2020. 
Obligation Amount:
$3,300,000
Date of Obligation:
August 1, 2017
Congressional District:
1 and 6