Charlene Guzman and Darrah Perryman
Business
Food Supply
Grants
Local Foods
Sustainable/Organic Foods
Value Added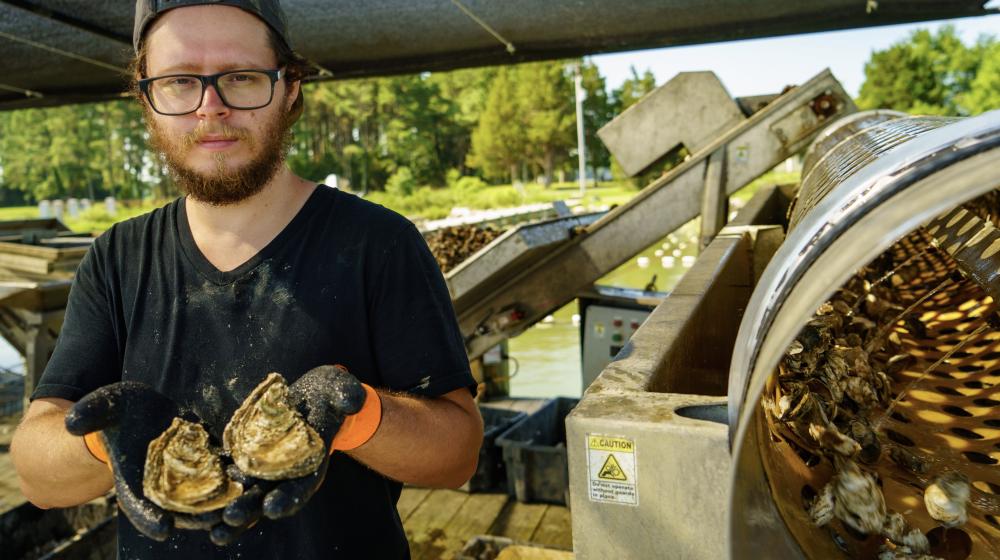 Deep beneath the cool waters of the largest estuary in the United States, rests a hidden world teeming with limitless possibilities. Chesapeake Bay is considered a national treasure, with a watershed stretching 64,000 square miles, touching six states, and impacting more than 16 million people. But for years, the waters have suffered from the overgrowth of algae, which led to a significant loss of fish and wildlife species. Many people thought there would be no way for the Bay to recover.
One company, however, saw a way forward in the form of a small but powerful marine animal—the humble oyster. True Chesapeake Oyster's owner and founder, Pat Hudson knew that growing oysters in the Bay could revitalize the ecosystem and return the waters back to the health and productivity he had witnessed during his childhood. Yet he faced a daunting challenge when seeking financing from banks who had little experience with aquaculture-based projects. That's when USDA Rural Development stepped in as a partner and an ally.
Hudson's local bank was able to lend to their business through Rural Development's Business & Industry Loan Guarantee program, which helps financial institutions lend to businesses they normally wouldn't have been able to. After the business was funded and Hudson and his team started growing oysters, they saw unique opportunities to transform the industry and utilized two Value-Added Producer Grants from Rural Development. The Value-Added Producer Grant helps agricultural producers generate new products and create and expand marketing opportunities.
Yet the benefits of True Chesapeake Oyster's partnership with USDA extends far beyond their increasing sales. It has begun to reenergize an entire farming industry in the Bay, and as a result, has brought life back to its waters.
"They came in the morning, and they were about a billion baby clams, floating around in the water," Hudson said. "Now we are embarking on a program to raise soft shells clams in the lab and then will deliver them to the farm and we will test ways to grow them out, just like oysters. And if successful, that will be another [Rural Development] call."
Obligation Amount:
250000
Congressional District:
5th