Contact
Stephanie Bittiker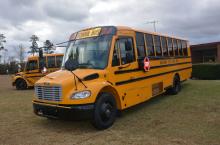 Waccamaw Economic Opportunity Counsel  recently was awarded two Community Facilities Grants totaling $99,900 to enable them to purchase two buses for the Lane head Start facility located in lane, South Carolina. 
The Counsel matched funds for their contribution of $80,246 to make this project possible.
The county celebrated the arrival of the new buses by hosting a dedication ceremony for the trucks.  Head Start Director, Corey Frazier said, "We're going to do some great things, bear with us.  We're going to crawl, then we're going to walk, then we're going to run.,  it's going to be awesome."    Thanks to the new buses, now they are going to ride.
The new buses will allow the facility to serve and transport children from all areas of Williamsburg County, South Carolina to and from the Head Start Facility.  When rural America thrives, all America thrives!
 
Obligation Amount
$99,900
Congressional District
06
Senator's Last Names
Graham, Scott