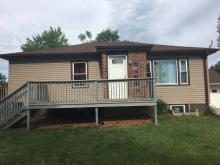 Tyler Glaser was tired of renting and wanted a home he could shape into his own.  As he works in Norfolk, Neb. it was an easy decision for him to decide where he wanted to own.
 
"My Mom works at a title company in Norfolk and pointed me in the right direction to NeighborWorks Northeast Nebraska (NWNEN), said Glaser." "The funding process was easy and I never really had any issues with anything. If something came up it was always easy to take care of.  Between working with USDA Rural Development and NWNEN the process was smooth."
USDA Rural Development (RD) partnered with NWNEN to provide Glaser funding.  RD provided a loan of $76,445 through its Rural Housing Direct Home Loan Program and NWNEN provided $40,000 for down payment assistance through its Purchase Rehab Resell Program. Glaser worked with NWNEN to put together the loan application package.  Little Dixie Community Action Agency (Intermediary), on behalf of NWNEN, submitted the application to RD for processing. 
The 912 sq. ft. bungalow style home that features two bedrooms and one bath is where Tyler now calls home.  He is excited to work in the yard and cannot wait to turn his unfinished basement into his own Huskers room at some point.  GO BIG RED!!
Obligation Amount
$76,445.00
Congressional District
Fortenberry (01)
Senator's Last Names
Fischer and Sasse