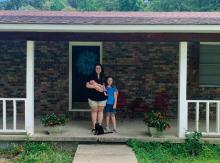 One of the most rewarding feelings for us at USDA Rural Development is making the call to an applicant once they're approved for a loan under the 502 Direct Home Program. You can hear the excitement in their voice and you can feel the gratitude through the phone lines. This was no different with the Hill family.  Mary Hill and her children, Rhylee (seven) and Colin (3 weeks), were able to purchase their first home in April.
"The teamwork was the most amazing part of this, " said Ms. Hill said when we spoke with her about her experience. Through the 502 Direct Home Program, we were able to get Mrs. Hill eligible and into her new home within 56 days. The attorney worked with the Sellers, Rural Development Loan Officer Sara Wilson, and buyer Ms. Hill to ensure the transaction went smoothly.
This family was able to purchase their "forever home" and the security that brings, and Lincoln County received 3 new residents (and a cat). Our team at USDA received warm hugs and a smile that will never fade while helping a Mississippi family.
Obligation Amount
$146,713
Congressional District
Guest - 03
Senator's Last Names
Wicker, Hyde-Smith