Open for Fiscal Year 2023 Applications due January 31, 2023
What does this program do?
This program assists rural small businesses and agricultural producers by conducting and promoting energy audits and providing Renewable Energy Development Assistance (REDA).
Who may apply for this program?
State and local governments.
Federally-recognized tribes.
A land-grant college or university or other institutions of higher education.
Rural electric cooperatives.
Public power entities.
An instrumentality of a state, tribal or local government.
A Resource Conservation & Development Council (as defined in 16 USC §3451).
How may funds be used?
The assistance must be provided to agricultural producers and rural small businesses. Rural small businesses must be located in eligible rural areas. This restriction does not apply to agricultural producers. Assistance provided must consist of:
Energy audits.
Renewable energy technical assistance.
Renewable energy site assessments.
Eligible project costs may include:
Salaries directly related to the project.
Travel expenses directly related to conducting energy audits or renewable energy development assistance.
Office supplies.
Administrative expenses, up to a maximum of 5 percent of the grant, which include but are not limited to utilities, office space, operation expenses of office and other project-related equipment.
Funds may NOT be used for:
Payment for construction-related activities.
Purchase or lease of equipment.
Payment of judgments or debt owed the government.
Goods or services provided by a person or entity who has a conflict of interest.
Costs incurred by preparing an application package.
Funding political or lobbying activities.
What are the grant terms?
Applicants must submit separate applications, limited to one energy audit and one Renewable Energy Development Assistance (REDA) per fiscal year. The maximum aggregate amount of an energy audit and REDA grant in a Federal fiscal year is $100,000.
How do we get started?
Applications for this program are accepted year-round at your local office.
Program Resources are available online (includes forms needed, guidance, certifications, etc.) Please refer to the Forms & Resources tab.
Who can answer questions?
What law governs this program?
Why does USDA Rural Development do this?
This program strengthens American energy independence by increasing the private sector supply of renewable energy and decreasing the demand for energy through energy efficiency improvements. Over time, these investments can also help lower energy costs for small businesses and agricultural producers.
NOTE: Because citations and other information may be subject to change, please always consult the program instructions listed in the section above titled "What law governs this program?" You may also contact your local office for assistance.
Resources
Rural Business Newsletters
There are no additional requirements at the national level. If there are additional state-specific requirements related to the environmental review, the state will advise.
​​
 South Dakota Rural Business-Cooperative Programs Contact Map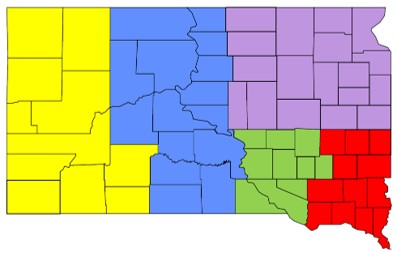 Grant Konechne, Rural Business and Cooperative Programs Director
200 4th Street SW, Federal Bldg. Rm. 210
Huron, SD 57350
Phone: (605) 352-1108
Fax: (855) 262-1940
Wyatt Stevens, Specialist
200 4th St SW Federal Building, Rm. 210
Huron, SD 57350
Serving: Beadle, Brookings, Brown, Clark, Codington,
Day, Deuel, Edmunds, Grant, Hamlin, Hand, Hyde, Kingsbury,
Marshall, McPherson, Roberts, and Spink Counties.
Phone: (605) 352-1111
Facsimile:  855-262-1940
Lance Lockwood, Specialist
414 East Stumer Road, Suite 200
Rapid City, SD  57701
Serving: Bennett, Butte, Custer, Fall River, Harding,
Jackson, Lawrence, Meade, Oglala Lakota, Perkins,
and Pennington Counties.
Phone: (605) 858-6681
Fax: (855) 262-1943
Clark Guthmiller, Specialist
1717 N. Lincoln Avenue, Suite 102
Pierre, SD  57501
Serving: Campbell, Corson, Dewey, Haakon, Hughes,
Jones, Lyman, Mellette, Potter, Stanley, Sully, Todd,
Tripp, Walworth and Ziebach Counties.
Phone: (605) 301-3409
Fax: (855) 262-1942
Cayla Holleman, Specialist
1820 North Kimball, Suite C
Mitchell, SD  57301
Serving: Aurora, Brule, Buffalo, Charles Mix, Davison,
Douglas, Gregory, Hanson,, Jerauld, and Sanborn, Counties.
Phone: (605) 299-3357
Fax: (855) 262-1941
Tyler Hinrichs, Specialist
2408 East Benson Road
Sioux Falls, SD  57104
Serving: Bon Homme, Clay, Hutchinson, Lake, Lincoln,
McCook, Miner, Minnehaha, Moody, Turner, Union, and
Yankton Counties.
Phone: (605) 937-4770
Fax: (855) 262-1944
Carolyn Bloodgood, Technician
200 4th Street SW, Federal Bldg. Rm. 210
Huron, SD  57350
Phone: (605) 352-1144
Fax: (855) 262-1940
Peggy Ryan, Loan Technician
1717 North Lincoln Avenue
Suite 102
Pierre, SD  57501
Phone: (605) 301-3407
Fax: (855) 262-1942​
There are currently no events scheduled.