State Office Contacts
4121 Carmichael Road, Suite 601
Montgomery, AL 36106
(334) 279-3400     
Nivory Gordon, Jr., State Director
Phone: (334) 279-3402
nivory.gordon@usda.gov
Guadalupe Kirby, Acting Public Information Officer
Twitter: twitter.com/RD_Alabama
ALABAMA AREA OFFICES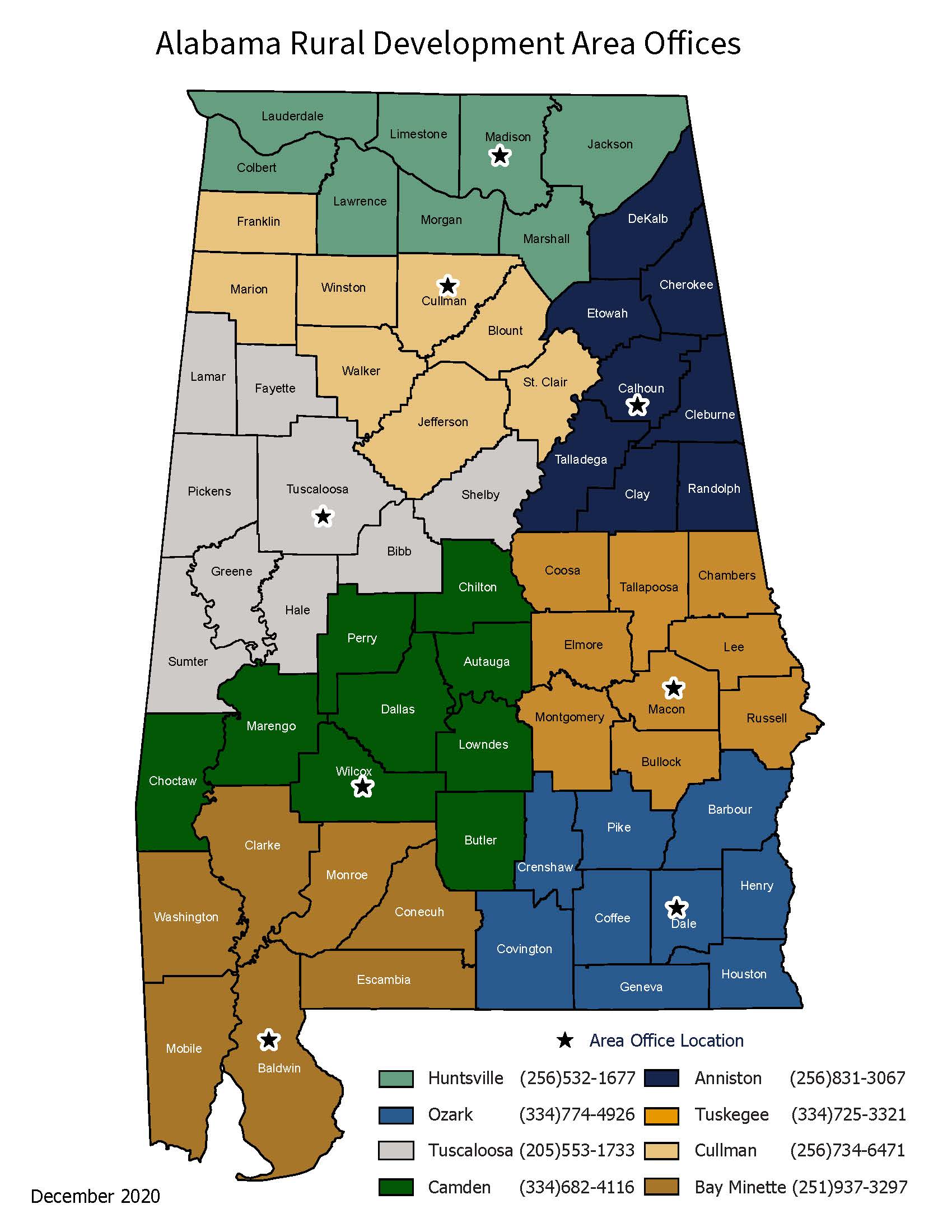 ANNISTON AREA OFFICE: (256) 835-7821, ext. 4 | Katherine Forster, Area Director (256) 676-3835
1413-C Hillyer-Robinson Industrial Parkway
Anniston, AL 36207 (Google Maps | Apple Maps)
Counties served: Calhoun, Cherokee, Clay, Cleburne, DeKalb, Etowah, Randolph, Talladega

Business, Community and Water & Environmental Team:
Tiana Burnett (256) 676-3823
Single-Family Housing Team:
Sharon McCord (256) 676-3837, Delean Shierling (256) 676-3841

BAY MINETTE AREA OFFICE: (251) 937-3297, ext. 4 | Allan Johnson, Area Director (251) 239-3530
207 Faulkner Drive, Suite 102
Bay Minette, AL 36507 (Google Maps | Apple Maps)
Counties served: Baldwin, Clarke, Conecuh, Escambia, Mobile, Monroe, Washington

Business, Community and Water & Environmental Team:
Corrine Daugherty (251) 239-3519, Walker Burger (251) 239-3531, Marjorie Jennings (251) 239-3546
Single-Family Housing Team:
Rebecca Holtzclaw (251) 239-3529, Michael Collier (251) 239-3556

CAMDEN AREA OFFICE: (334) 682-4116, ext. 4 | Rose Norwood, Area Director (334) 682-4116, ext. 110
321 Depot Street
Camden, AL 36726 (Google Maps | Apple Maps)
Counties served: Autauga, Butler, Chilton, Choctaw, Dallas, Lowndes, Marengo, Perry, Wilcox

Business, Community and Water & Environmental Team: 
Dorothy Reeves (334) 682-4116 Ext. 100
Single-Family Housing Team:
Corliss Williams (334) 682-4116 Ext. 108

CULLMAN AREA OFFICE: (256) 734-6471, ext. 4 | Guadalupe Kirby, Area Director (256) 841-3719
501 C 4th Street SW
Cullman, AL 35055 (Google Maps | Apple Maps)
Counties served: Blount, Cullman, Franklin, Jefferson, Marion, St. Clair, Walker, Winston

Business, Community and Water & Environmental Team:
Phillip Cross (256) 841-3713, Shanda Shaw (256) 841-3714
Single-Family Housing Team:
Sally Spurgeon (256) 841-3716, General Contact Email: ra.rd.alcul.sfh@usda.gov

HUNTSVILLE AREA OFFICE: (256) 532-1677, ext. 5 | Brian Yarbrough, Area Director (256) 947-5203
1300 Meridian Street N., Suite 23-B
Huntsville, AL 35801 (Google Maps | Apple Maps)
Counties served: Colbert, Jackson, Lauderdale, Lawrence, Limestone, Madison, Marshall, Morgan

Business, Community and Water & Environmental Team:
Doug Shortt (256) 947-5185, Brandi Taylor (256) 947-5204
Single-Family Housing Team:
Pamela Pickard (256) 947-5201, Connie Slone (256) 947-5184

OZARK AREA OFFICE: (334) 774-4926, ext. 4 | Richard Osborne, Area Director (334) 774-4926, ext. 105
1177 E. Andrews Avenue, Suite B-1
Ozark, AL 36360 (Google Maps | Apple Maps)
Counties served: Barbour, Coffee, Covington, Crenshaw, Dale, Geneva, Henry, Houston, Pike

Business, Community and Water & Environmental Team:
Melissa Perault (ext. 107), Willette Carter (ext. 112)
Single-Family Housing Team:
Alicia Kanouse (ext. 118)

TUSCALOOSA AREA OFFICE: (205) 553-1733, ext. 4 | Teresa Long, Area Director (205) 553-1733, ext. 5
3831-B Palisades Drive
Tuscaloosa, AL 35405 (Google Maps | Apple Maps)
Counties served: Bibb, Fayette, Greene, Hale, Lamar, Pickens, Shelby, Sumter, Tuscaloosa

Business, Community and Water & Environmental Team: (205) 553-1733, ext. 5
Robert Macon (205) 553-1733, ext. 5, Pam Owens (205) 650-3380, Chandra Young (205) 650-3376
Single-Family Housing Team: (205) 553-1733, ext. 4
Karen McKelvey (205) 650-3384, Jymika Howard (205) 553-1733, ext. 4

TUSKEGEE AREA OFFICE: (334) 725-3321, ext. 4 | Quinton Harris, Area Director (334) 552-3058
1327 Franklin Road, Suite B
Tuskegee, AL 36083 (Google Maps | Apple Maps)
Counties served: Bullock, Chambers, Coosa, Elmore, Lee, Macon, Montgomery, Tallapoosa, Russell

Business, Community and Water & Environmental Team:  (334) 725-3321, ext. 4
Scott Stevens (334) 552-3057, Steven Levi (334) 552-3055
Single-Family Housing Team: (334) 725-3321, ext. 4
Shunta Hill (334) 552-3054, Tayler Curry (334) 552-3068
ALABAMA STATE OFFICE
RURAL BUSINESS & COOPERATIVE PROGRAMS 
State Office Business & Cooperative Programs Main Line: (334) 279-3623
Marcia Johnson, RBCS Program Director (334) 279-3453
RURAL BUSINESS-COOPERATIVE SERVICE | BUSINESS AND ENERGY PROGRAM STAFF
Amy Cherry (334) 279-3460
Tiffany Bradford (334) 279-3462
RURAL HOUSING SERVICE | COMMUNITY FACILITIES PROGRAMS AND 
RURAL UTILITIES SERVICE WATER & ENVIRONMENTAL PROGRAMS
State Office Community Facilities and Water & Environmental Programs Main Line: (334) 279-3615
Allen Bowen, Community Facilities and WEP Program Director (334) 279-3617
COMMUNITY FACILITIES PROGRAMS AND RUS WATER & ENVIRONMENTAL PROGRAM STAFF
Suzanne Murphy (334) 279-3445
John "Wes" Golden (334) 279-3459
Jacques Britton (334) 279-3461
ENGINEER/STATE ENVIRONMENTAL COORDINATORS
Civil Engineer: Randall Lucas (334) 279-3475
Civil Engineer: Marcus Richburg (334) 279-3445
RURAL UTILITIES SERVICE | TELECOMMUNICATION PROGRAMS
State General Field Representative:  Michael Wilber, (334) 451-5286
RURAL HOUSING SERVICE | SINGLE-FAMILY HOUSING PROGRAMS
State Office Single Family Housing Main Line: (334) 279-3440
State Single Family Housing Fax Line: (855) 752-2166
Leah Taylor, State Single Family Housing Program Director (334) 279-3439
RURAL HOUSING SERVICE | SINGLE-FAMILY HOUSING PROGRAMS STAFF
Jane Romano (334) 279-3449
Phillip Winslett (334) 279-3442
Mark Towns, Regional Appraiser, (334) 279-3457
RURAL HOUSING SERVICE | GUARANTEED LOAN PROGRAM
Lenders with file-specific questions in Alabama should contact Team One at SFHGLPONE@usda.gov
In your email:
Identify the state the application property is located;
Provide applicant's name, if applicable;
Include contact information (email, phone); and
Indicate if you want a call back – otherwise an email response will be sent.
Or call the GRH hotline:  (202) 720-1452
For general inquiries:  sfhgld.program@usda.gov
Questions on lender approval or recertification:  sfhgld.compliance@usda.gov
For e-Authentication:  eAuthHelpDesk@ftc.usda.gov
For GUS system:  RD.HD@STL.USDA.GOV or call (800) 457-3642, option 2; then option 2
MULTI-FAMILY HOUSING PROGRAMS
Phone: 1-800-292-8293
On October 11, 2020 Rural Development's Office of Multifamily Housing finalized its structural realignment which, in some cases, redistributed the existing portfolio to a servicing Specialist within our new Field Operations Division. If you are looking for the servicing Specialist for a specific property, you will find a complete and sortable list here: https://www.sc.egov.usda.gov/data/MFH.html
Our Field Operations Division maintains local relationships through regionally organized servicing teams and handles all day-today servicing of Multifamily housing properties to ensure that tenants have safe and affordable housing.
 
Southern Region: Byron Waters, Regional Director Byron.waters@usda.gov
(AL, AR, FL, GA, KY, LA, MS, NC, OK, PR, SC, TN, TX, VI)
If you need information on a loan transaction currently in process, or have questions on a new transaction, our Production & Preservation Division (PPD) processes, underwrites, and closes all multifamily direct, preservation, and guaranteed loan transactions. PPD will support all the Multifamily Housing Programs, including 515, 538, Multifamily Preservation and Revitalization (MPR), prepayments, and preservation efforts. This division will also oversee Notice of Solicitation of Applications (NOSA) drafting and administration efforts for Farm Labor Housing, Housing Preservation Grants, MPR, technical assistance, and 515.
The email contact information for the Production & Preservation Division follows: 
Processing and Report Review Branch 2:  MFHprocessing2@usda.gov
(AK, AL, AR, AZ, CA, CO, FL, GA, HI, ID, KY, LA, MT, MS, NC, NM, NV, OK, OR, PR, SC, TN, TX, UT, VI, WY)