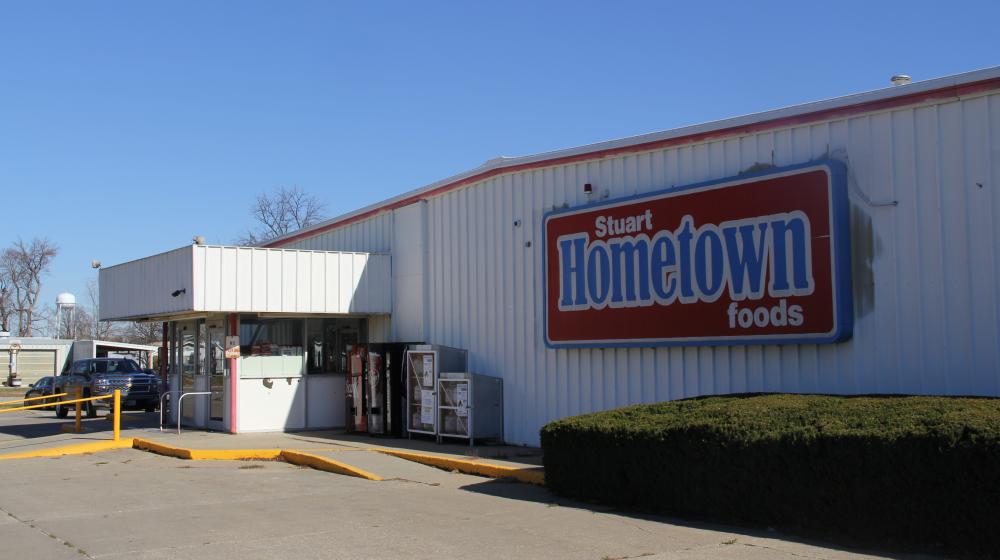 While growing or producing all of their own fruits, vegetables, dairy and meat is an option for some rural Iowa families, nearly every household today makes regular trips to grocery store.
But fewer local grocery stores across the state mean more rural Iowans now live in food-desert communities as local gas stations and convenience stores, which serve as de facto grocery stores, offer a very limited selection of fresh and healthy food options.
"For decades the cornerstone business in any rural Iowa community was the grocery store," said Bill Menner, USDA Rural Development State Director in Iowa. "The decline in the number of grocery stores in our state over the years means the remaining stores are even more important to local residents and those in surrounding areas and communities."
Having a grocery store in a community has many benefits beyond a just convenient access to healthy and nutritious food. They also provide jobs, generate tax revenue and can help attract new residents to a community in the same way as quality housing options, a local school or new health-care facility.
For 40 years David Reinhart and his brothers have worked in the small-town grocery business, starting with the purchase of their first store in Guthrie Center (pop. 1,526) in 1975.
Eventually the brothers expanded to three stores with the purchase of a location in Stuart (pop. 1,612) in January 1994 followed by a Panora (pop. 1,092) store a few months after that.
Customers visit Stuart Hometown Foods, located just a few blocks north of Interstate 80, from as far away as Dexter, Redfield, Casey and Menlo, along with many travelers looking for fresh-food options that they cannot get at the nearby convenience stores.
"Our family has deep roots in rural Iowa," David said. "We all grew up on a farm near Carroll that has been in the family for close to 130 years now.  We all like what small towns offer young families, as well as those people who are looking for something that might be a little more comfortable to them."
No day is the same in the grocery business which means the days, months and years seem to fly by. The Reinhart brothers are now in their mid-60s but none has any intention of retiring any time soon.
"It has sure gone fast," David added. "I guess I will be here until they ask me to leave."
The three grocery stores will be in good hands when the Reinhart brothers do decide to retire. The next generation is ready to come into the business and David's son, Matt, has already been working with his dad for close to 20 years now.  
The Reinharts understand the importance of making their stores as energy efficient and customer friendly as possible.  One of their most recent improvements was replacing all of the open-air coolers with new, energy efficient closed-door coolers for their dairy, meats and beer products at the Stuart Hometown Foods location.
They used a USDA Rural Development's Rural Energy for America Program (REAP) grant to help pay for a portion of the upgrades that now include 31 doors of refrigerator and frozen food and beverages.   
The new modern-looking coolers are well insulated, and use high-efficiency LED lighting and cooling fans.  In fact, just two eight-horsepower compressors are used to keep everything cool, instead of two 25-horespower compressors used previously.
"These improvements have substantially helped with our monthly utility bills and improved our carbon footprint," David said. "This summer we re-invested our savings back into the business by putting a new roof on our building to further promote energy savings, especially in the summer months."
Earlier this year, USDA Rural Development supported another interesting grocery store project by providing a $32,000 grant to the University of Northern Iowa.  The grant will be used to conduct a feasibility study on how a food hub could be incorporated into rural grocery store to help prevent food deserts in rural Iowa.
Leading the study is Kamyar Enshayan, director of UNI's Center for Energy and Environmental Education, and a team from New Venture Advisors.
"Rural grocery stores that can also serve as distribution hubs for fresh, locally grown foods can have an even larger impact on the community by offering residents a wide variety of fresh food options, while at the same time giving local growers a new location where their products can be sold," Enshayan said.
During the past seven years, USDA Rural Development has helped eight grocery stores in rural Iowa with a total of nearly $3 million in loans to assist two with expansion plans and six with a total of $116,207 in grants to help with energy-use improvements within the stores.
Indeed, it was not many years ago that nearly every small town in Iowa had local grocery store.
"For many rural Iowa kids, their first experience into the working world, their first paying job, was at the local grocery store," Menner said.
With nearly 40 full- and/or part-time employees in just the Stuart store alone, the Reinharts are doing their best to give as many people as possible this opportunity to work.
"We try very hard to be a strong partner with the communities and residents we serve," David added.
Obligation Amount:
$15,873
Congressional District:
Young - 3