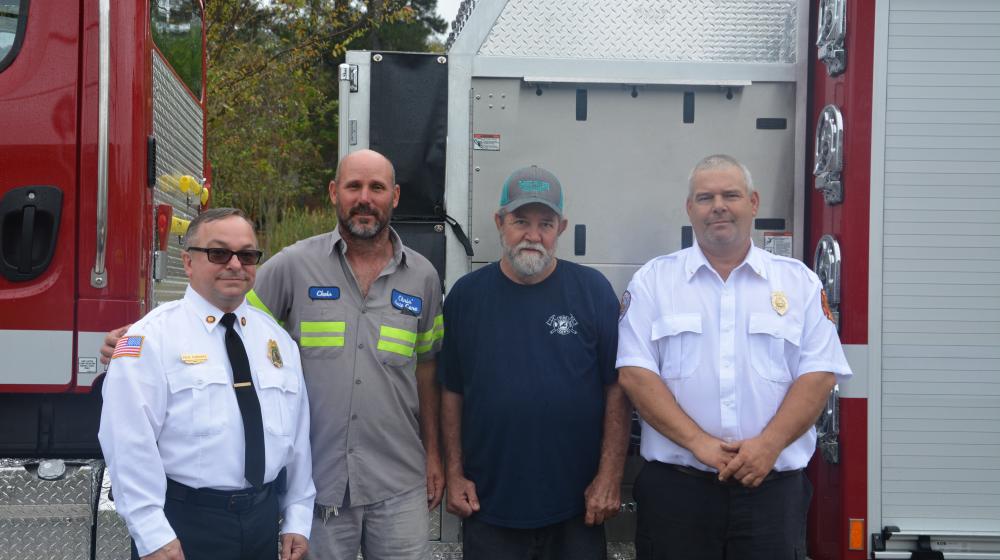 Bamberg County recently was awarded three, Community Facility Combo Loan/Grant projects totaling $690,300 in loans and $149,700 in grants.  These awards allowed Bamberg County to purchase three new fully equipped Fire Engine Pumper Tankers to replace their aging fleet.  The new trucks will be used in three different fire zones within Bamberg County; in the Towns of Ehrhardt, Olar and Little Swamp.   
The county celebrated the arrival of the new trucks by hosting a dedication and blessing ceremony for the trucks.  Although it was raining on the day of the dedication, Bamberg County Administrator Joey Preston said, "It takes sunshine and rain to help things grow … Consider that a blessing along with the blessings we have today."
Firefighters from Ehrhardt, Olar and Little Swamp were present for the ceremony and as part of the dedication ceremony performed a radio call out into the community alerting the community that the new engines are in service. 
The new trucks will assist in making Bamberg County a safe place for its rural citizens to live and work.  When rural America thrives, all America thrives!
The USDA Rural Development Community Facilities Direct Loan & Grant Program provides affordable funding to develop essential community facilities in rural areas.  Examples of essential community facilities are fire stations, police stations and this program also includes funding for police vehicles, fire trucks and public works vehicles.  For more information about this program see:  https://www.rd.usda.gov/programs-services/community-facilities-direct-loan-grant-program/sc.
To see if you might qualify, please contact your local servicing Area Office at:  https://www.rd.usda.gov/contact-us/state-offices/sc.
…………………………………………………………………………………………………….
                                                                                    #
USDA is an equal opportunity provider, employer, and lender. 
Obligation Amount:
$690,300 in loans and $149,700 in grants
Date of Obligation:
June 1, 2018
Congressional District:
Clyburn (6)