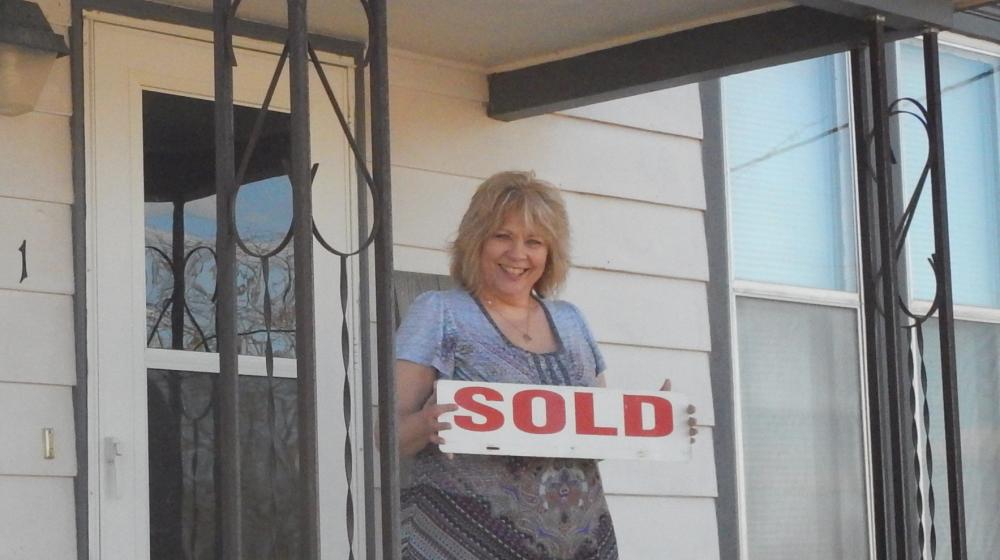 Having lived in the small, rural Otoe County community all her life, Cindy Jewell knew that buying a home was something that she wanted to do but she was concerned that her financial situation would be challenging for a conventional loan. Cindy has worked as a hair dresser in neighboring Nebraska City for more than 30 years.  She works on commission so her income always fluctuates.  Being a shoulder cancer survivor, Cindy is limited on the amount of time she can work which is typically three days a week.
"I was renting a house from my parents," said Cindy. "When my dad's health began to decline my parents had no choice but to put the house I was living in up for sale."
Cindy started her homeowner journey with the local USDA Rural Development (RD) office where she completed a Single Family Housing Direct Loan application.  After  reviewing Cindy's information, USDA referred her to Southeast Nebraska Community Action (SENCA).  She completed an application for SENCA's Down Payment Assistance (DPA) with Rehabilitation. Being a first-time home buyer Cindy was required to complete the agency's Homebuyer Education program.
"I think homebuyer education is very beneficial for first-time homebuyers who are starting out at square one," said Cindy.
RD provided a $21,500 loan for the purchase of Cindy's home.  Down payment assistance was provided by a $1,500 loan from SENCA and a $4,000 grant from the Federal Home Loan Bank through the First Down fund from the Nebraska Housing  Developers Association.
SENCA, via a grant from the Nebraska Department of Economic Development provided $13,660 for rehabilitation work which does not have to be repaid if she lives in her home ten years. This funding provided an energy efficient furnace and air conditioner along with energy efficient windows and doors.
March 20, 2019 Cindy will always remember as she finalized the purchase of the family owned property that she had been calling home for more than a decade.
   "I continue to share my story with others who I feel have a need and would benefit from these types of
   services," said Cindy.
Obligation Amount:
$21,500
Date of Obligation:
March 1, 2019
Congressional District:
Fortenberry (01)