Homeownership
Homeownership Month 2022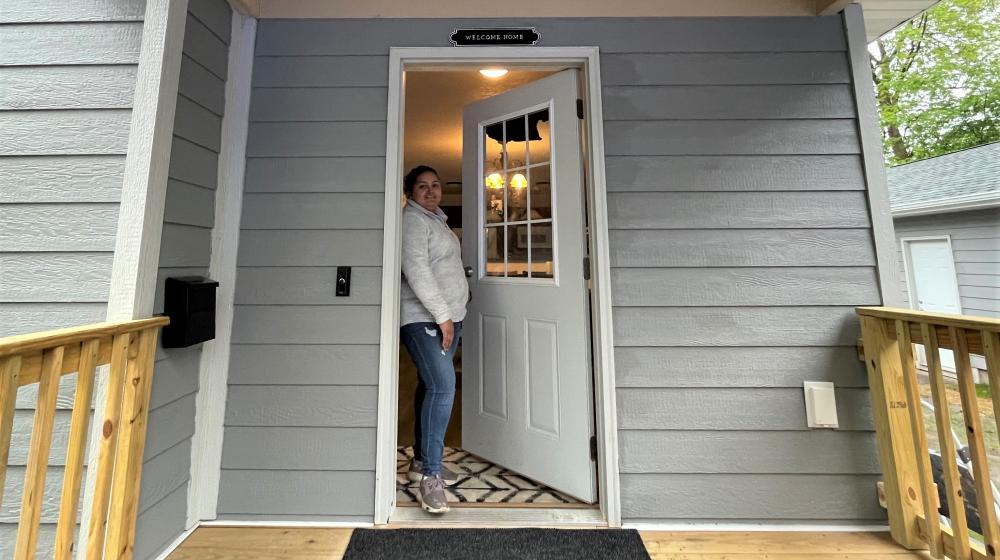 It was raining, it was pouring, but the only one snoring was Alma Flores' son in his very own bedroom. On a rainy, spring Wednesday in Wisconsin, Alma hosted USDA Rural Development (RD) and Habitat for Humanity (HFH) to share her favorite things about her family's new home. 
Having previously lived in a two-bedroom apartment with her family of five, moving into a four-bedroom home has been life changing.
"The space we live in is not the issue anymore. In our apartment, I didn't feel like I could get any rest – my kids couldn't get any rest. Now my son can go to his own room. That's a huge impact for him and for us as parents," Alma said.
Over a decade ago, the city of New Richmond, known as the City Beautiful for its gorgeous views, purchased the lot where Alma's home now stands and demolished an old structure on the property. Three years ago, Beth Thompson, New Richmond's Community Development Director, noticed the vacant lot and decided to investigate.
Beth contacted Kristie Smith, Executive Director at St. Croix Valley HFH about a potential partnership. Beth told Kristie the lot would be perfect for a home. The city determined the property needed to go to a low- to moderate-income sale that would fit their revolving loan fund.
Alma said, "The city has been really great. Every time I called; they were great. I was so scared of the move after living somewhere else for 17 years. I just didn't know how my kids would adjust. It was a big change, but we have great neighbors. There are two kids next door who have become friends with my kids. A neighbor stopped by the other day and gave us new garage lights and offered any support we may need."
The relationship between HFH and RD varies from state to state. The top goal is to provide affordable housing to underserved and low-income individuals and families looking to achieve the dream of homeownership in rural areas. RD and St. Croix Valley HFH have partnered since 2015 and in that time have served ten families in the area through USDA's Single Family Housing Direct Home Loans.
RD Wisconsin State Director Julie Lassa commended her staff, "We know there are folks in our communities who need a little help, need a little direction. It takes all of us working together, with partners like St. Croix Valley Habitat for Humanity, to connect us and our programs to residents like Alma."
The President's recent issuance of Executive Order on Advancing Racial Equity and Support for Underserved Communities paved the way for USDA to meaningfully listen to new homeowners like Alma and partners like HFH, understand existing barriers to accessing USDA programs and services, and assess data to identify actions to advance equity across the country.
Obligation Amount:
250,000
Congressional District:
WI-7