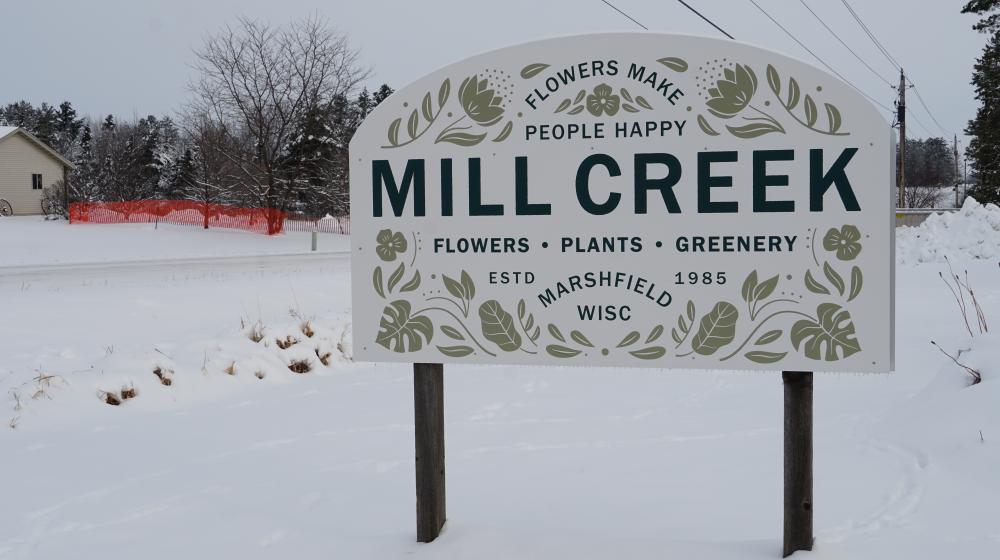 Between fresh snowbanks and snow-covered farm fields on Mill Creek Drive in Marshfield are rows of greenhouses with a large sign out front that says, "Flowers Make People Happy" on it. It's a quiet winter day in December but inside is a warm, welcoming display of thriving flora.
Erik and Danielle Winer have owned Mill Creek Gardens, a garden center and flower farm, since 2011. Serving cities throughout the Midwest, their goal is to instill their passion for plants on everyone who walks through the door.
Mill Creek Gardens received their second Rural Energy for America Program (REAP) grant in 2022. The $20,000 grant was used to install their second biomass boiler. The Winer's received their first REAP grant in 2018 to install their first boiler.
"That was a big step for us because it was one of our first upgrades," said Erik. "We've owned this place almost 12 years and we keep growing and investing in our infrastructure," said Erik. "By doing these sustainable projects, it allows us to take bigger steps and it keeps paying off."
"During the pandemic, indoor plants were such a craze," said Danielle. "People want more plants than what they did three years ago, and we love talking about the fact their plants come from us."
Erik, an electrical engineer by trade, and his wife Danielle, a volleyball coach, didn't grow up around house plants though.
"When I first started as an engineer, I traveled all over the world. I'd go ga-ga over factories and solving their problems. Now, people come in and ask, 'What am I doing wrong with my plant?'" Erik said. "I tell them it's a living thing. It's just like us. They don't always know what's wrong with the plant, but we can help them figure it out."
The same is true with the boilers.
"The fuel could come in and be 5% moisture. It's a challenge to figure out the right settings but I get to learn a bit more about the equipment," said Erik. "That's when I get especially excited about what we do here."
When the Winer's purchased the initial three greenhouses, they were only heated April, May, and June due to the cost of propane. Now, with the help of the boilers, they can heat all their buildings year-round for less.
Mill Creek Gardens is in full Christmas production from mid-October to mid-December with 15 to 20 seasonal positions working on wreaths and garland, which allows their full-time staff to focus on houseplants.
"Having the boilers has allowed us to have full time staff," said Danielle. "We wouldn't have them without the boilers."
The boilers are centrally located and pump heat into their greenhouses with locally sourced fuels like wood mulch. They source extra scrap slab wood from a nearby Amish sawmill and receive logs from local tree servicers. When it's extra cold, Erik will fill the boiler up to three times per day.
"They bring the fuels over here and they get a second life. We get a lot of weird sizes that can't go to a paper mill, too. It's nice because everything we use here is local," said Erik. "It is very efficient. In that fire chamber, it's burning something like 1300 degrees but only 150 degrees goes out the stack. Our system is capturing all that heat."
While the process does create byproducts, the garden center makes use of the ash as a natural deicer on their driveway and activated charcoal for the plants, resulting in very little waste throughout the entire process.
"The Rural Energy for America Program helps us and our business. People respect what we are doing, and we think it's the right thing to do," said Danielle. "It's something that stands out beyond what we offer. Someone can step into the greenhouse and ask, 'How do you heat this thing?' and I take them on a tour. I get to show them just what it takes to grow plants in Wisconsin."
Obligation Amount:
$20,000
Congressional District:
WI 07