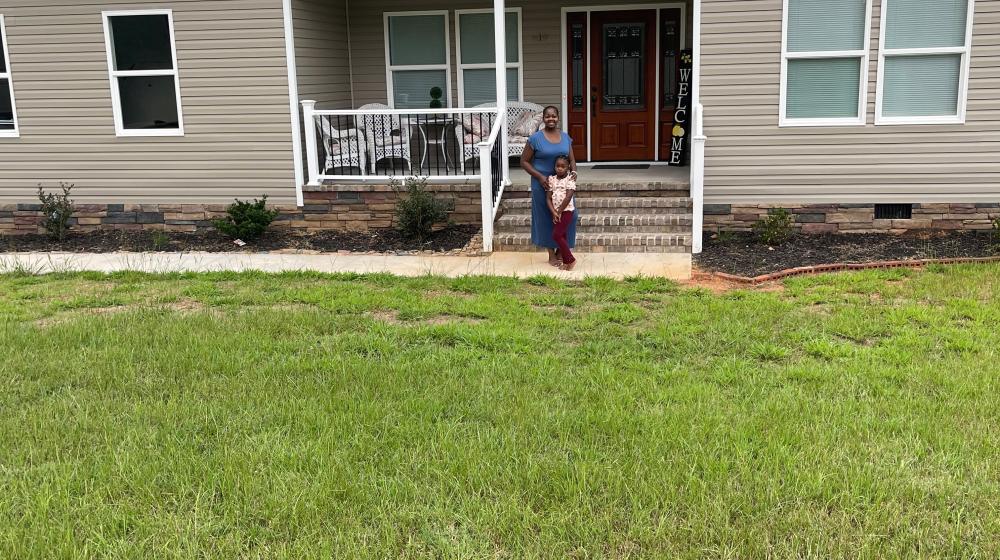 Homeownership is still the "American Dream" for many people living in America and for Ms. Jacqueline Turner, this dream was no different. 
USDA Rural Development (RD) helped Turner realize that it's not just a dream it's now a reality.
Recently Turner applied for a home loan through RD's 502 Single-family Housing Loan Program to purchase her home in Anderson county. The application made its way to the desk of Kimberly Newman, a USDA Loan Specialist working in the Anderson Field Office.  
Kimberly worked closely with Ms. Turner throughout the home-buying process and in June 2022, USDA was able to close on Ms. Turner's new home.
"Jacqueline was an applicant that worked multiple jobs to provide a better life for her and her child," said Kimberly. "She did everything that was asked of her and stayed educated about the process. I am proud to say her hard work paid off and she and her daughter now enjoy a new home where they will continue to thrive for years to come."
"I have always dreamed of owning a home and setting an example for my children," said Ms. Turner. "I was unable to do that for my oldest two children, but with the help of USDA, I am able to do that for my five-year-old daughter. Now my young daughter is able to play outside and run around the yard. I know that she's safe."  
Ms. Turner added, "she is really enjoying everything about this house, like sitting on the deck early in the morning and drinking a cup of coffee and relaxing. In addition, now her two older children can enjoy being there to grill out with the rest of the family." 
We at USDA can't think of what better example a parent can set than to show their children that with determination (and a little help from USDA), anything is possible, and dreams really can come true!
Visit the Single Family Housing program webpage or contact a Rural Development State Office to learn more about USDA homeownership programs near you.
Under the Biden-Harris Administration, Rural Development provides loans and grants to help expand economic opportunities, create jobs and improve the quality of life for millions of Americans in rural areas. This assistance supports infrastructure improvements; business development; housing; community facilities such as schools, public safety and health care; and high-speed internet access in rural, Tribal and high-poverty areas. For more information, visit www.rd.usda.gov. If you'd like to subscribe to USDA Rural Development updates, visit our GovDelivery subscriber page.
                                      Usda is an equal opportunity provider, employer, and lender.
Obligation Amount:
$326,500
Date of Obligation:
April 21, 2022
Congressional District:
SC 03