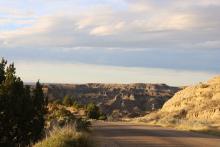 Glendive EyeCare is nestled in the heart of downtown Glendive, Montana, which is well-known by paleontologists and dinosaur enthusiasts as a treasure trove that is rich in history and archaeological findings.
Despite living in a semi-arid climate, the staff of this optometry business, which was founded in 1981, suffered from fluctuating workplace temperatures.
When asked about their antiquated heating and cooling system, Janette Bogar, Glendive EyeCare's Office Manager remarked, "We knew that our (1950's) furnace was going to die and to get parts was impossible. It was old, and huge, and we just knew it wasn't going to last. Plus, the girls were always too cold or hot, and it wasn't just in our area. It was up front and in the hallway too." So, in 2021, the company applied for funding through the Rural Energy for America Program (REAP) and received a grant to install an energy-efficient system.
Through a $13,619 REAP grant, the older building is now retrofitted with a smaller, programmable HVAC unit that can be set from on-or-offsite to adapt to Glendive's seasonality as well as Glendive EyeCare's work schedule and needs.
Prior to this funding, Bogar noted that the company was "just trying to keep the older building going." Now equipped with a state-of-the-art set-up, Glendive EyeCare no longer needs to worry about climate change within the building. And, in keeping in line with its desire to promote Earth-friendly practices, which includes offering eco-friendly contact lenses and sustainable eyewear, they can rest well knowing that they are helping lessen their carbon footprint on the outside too. The company is planning their next steps for disposing of the obsolete, room-sized, basement furnace and is making plans to disassemble and recycle this dinosaur. This energy-efficient investment was projected to save the business $2,075 annually in energy bills, and 33,520 kilowatt hours (kWh) per year, reducing the company's energy usage by 27 percent.
Obligation Amount
$13,619
Congressional District
Rosendale (MT 00)
Senator's Last Names
Tester and Daines