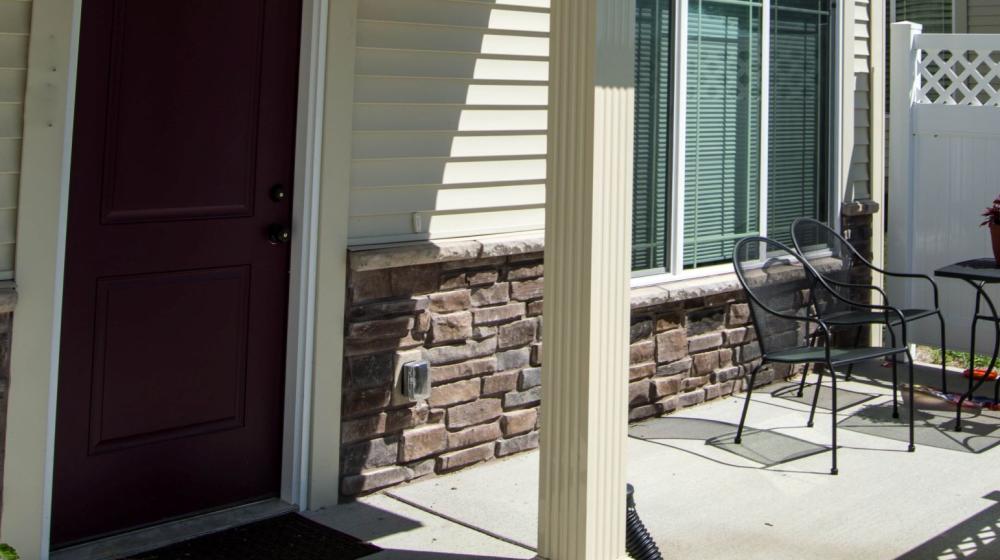 While the clear blue skies and tidy farm fields on the prairie may seem limitless in Wright County, Iowa, access to housing there can be challenging to see. To find a suitable place to live, Kate Foote confronted a limited supply of affordable homes and ever-changing market forces.
A 76-year-old native of Iowa, Kates uses mechanical devices to assist her with mobility. Because of her physical challenges, she thought she would never own her own home again. She longed to move closer to her son, and she needed a community that had plenty of activities to engage senior citizens.
As Kate searched for affordable housing options online, she found the telephone number for the United States Department of Agriculture (USDA) Rural Development office. In speaking with the staff, she learned that she was eligible to apply for a Single-Family Direct Home Loan. Kate located a modest property in Eagle Grove, a quiet north-central Iowa town of 3600 people. After working with the Rural Development team in Mount Pleasant, she obtained a mortgage and purchased the house.
"I'm kind of floating on air right now—this is a dream come true for me. I've been dealing with one angel after another in the Iowa Rural Development office," Kate said. "Now I live in a community where I can get out of the house and meet people."
Because of her affordable mortgage and wheelchair-accessible home, Kate finds it easier to see her son, shop for supplies, and enjoy retired life. Homeownership has helped her feel secure and even joyful about the move she made.
"The sweet-natured staff I've met along the way in the Rural Development office have made the home-buying process so easy and comfortable—no stress or worry. They know their jobs, and they do them with kindness."
Through the agency's direct home loan program, also called the 502 Direct Loan, applicants can find affordable, safe, and sanitary housing in rural communities. The program offers low interest rates and does not require a down payment.
The USDA Rural Development team is committed to helping individuals and families buy, build, or repair homes with funding through several different housing programs.
When Kate moved into her new place, she sent the Iowa Rural Development staff an email to express her appreciation for their hard work. "I send you all my thanks, and my love—that's what the world needs more of. Eagle Grove has no idea what's about to hit it!"
Visit Single Family Housing Programs to learn more about how Iowa Rural Development can help you find your forever home.
Obligation Amount:
$86,900
Congressional District:
IA 04