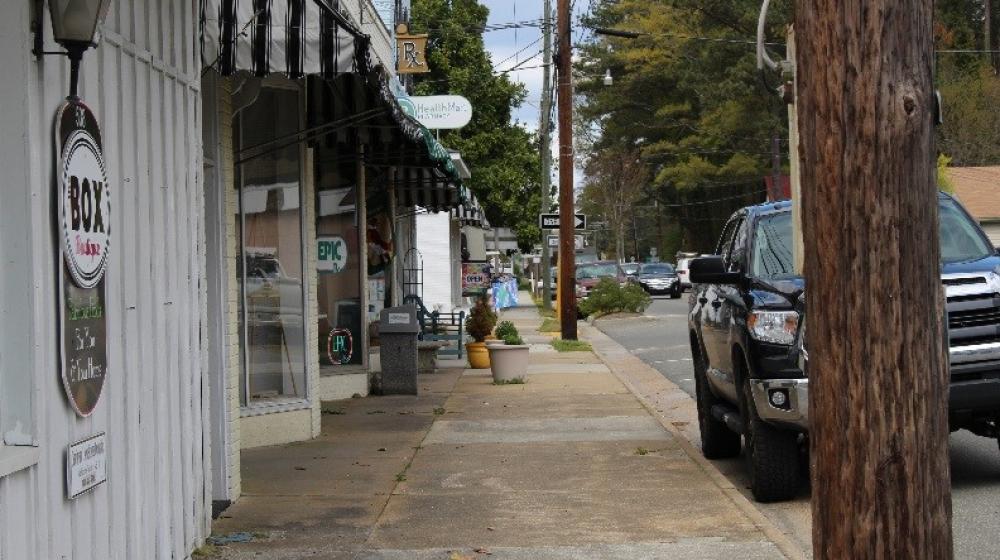 Picturesque White Stone, Va., sits on a gateway to the state's Northern Neck at the junction of the Rappahannock River and the Chesapeake Bay. It is a town with enormous economic potential, but in the center of town at The River Market during a recent lunchtime rush, owner Jim McDaniels said he felt "like a racehorse with shackles on."
Between taking sandwich orders over the phone, cashing out customers at the register and calling out to-go orders to his employees, he paused to speak with Pat Frere, White Stone town manager, and a guest.
"I have a good business here, but I haven't been able to grow for over eight years," McDaniels said. "Now, what's holding me back is the fact that I have customers that want to come sit down and have a sandwich – have dinner – and it is not possible."
Customers at The River Market can't come in and sit for a meal because White Stone has no public sewer system. McDaniels and other business owners in town have to maintain their own septic systems that have limited capacity, which is a bad enough problem that McDaniels once had to permanently shutter a thriving restaurant because business was too good and his septic system couldn't handle demand. The current individual systems in White Stone also often require large drain fields and expensive recurring maintenance costs.
Other businesses in the town, as well as any potential businesses, share McDaniels' economic barriers, but lacking a public sewer system raises more than economic concerns.
White Stone's sea-level soil is already saturated, and as residential and business septic systems are failing, human and environmental health are threatened. The town has seen raw sewage seep above ground and enter into water supplies, creeks, the Rappahannock River and ultimately the Chesapeake Bay.
About 47 percent of the town's individual septic systems are at least 44 years old, predating 1972 sewage disposal regulations, and about 35 percent of the current systems have more recent permits, but have failed at least once.
"White Stone's traditional industries are agricultural, forestry and fisheries, and a lot of the older residents' families worked on the water," Frere said. "We hope and believe that a cleaner river and cleaner bay will result in helping to reinforce the return of resources like the oyster population, which is already rebounding."
Thanks to the initiative taken by White Stone's citizens and government officials, funding is on its way.
The U.S. Department of Agriculture's Rural Development office in Virginia, along with state and nonprofit officials, announced on April 21 more than $4 million in wastewater infrastructure funding that will address the health and environmental concerns in White Stone.
Beginning in summer of 2017, construction will begin on White Stone's wastewater treatment plant, which will have a 40,000 gallon-per-day capacity, and collection system, which will include approximately 13,800 linear feet of force main piping. The completed system will be phase one of a two-phase sewer plan in the town and will provide safe, sanitary sewer access for approximately 129 residential connections and 38 businesses or mixed-use buildings. Phase two will reach the remainder of the town.
More than $2.7 million for the wastewater project came from USDA Rural Development's Water and Environmental Program (WEP), which provides technical assistance and financing to develop drinking water and waste disposal systems for communities with fewer than 10,000 residents. Other funding came from the Virginia Department of Housing and Community Development, the Virginia Department of Environmental Quality and the Southeast Rural Community Assistance Project.
"We are located strategically to be the southern gateway to the Northern Neck," Frere said. "We want to become the place where people stop and stay and visit, and a place with a variety of jobs that allow young people to move to White Stone.
"The people here – the business owners that are here – they strongly believe in the town, they have persevered through the decline of the town and through a recession. They are the kind of people that if just given the chance they're going to run with it."
And run – or race – is all McDaniels wants to do.
"Once we get sewage we will be able to fully develop our economic growth here in the area," he said. "The buildings won't be empty – they're going to be full."
Obligation Amount:
$2.7 million
Congressional District:
1