Economic Development
Manufacturing
Small Business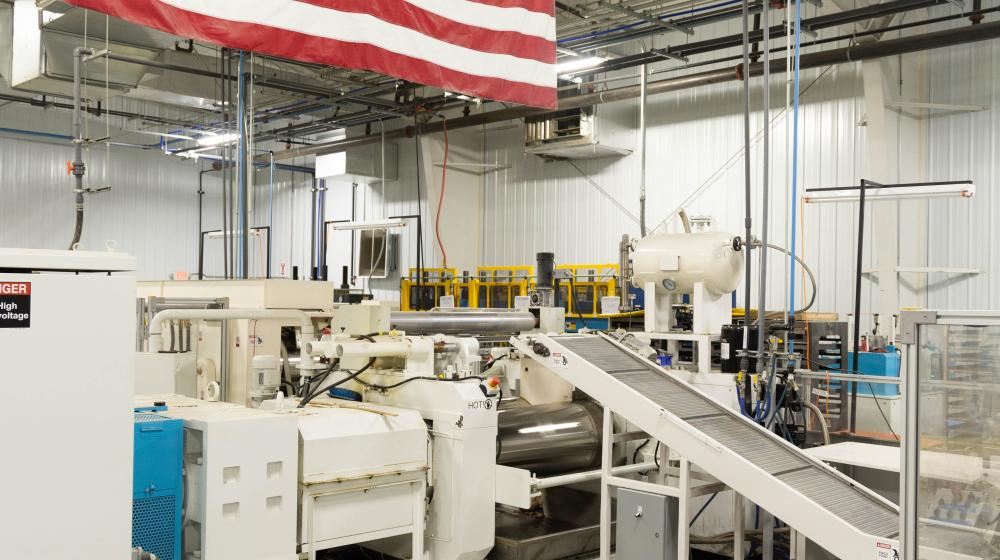 Growing up, we all remember visiting the local pool or water park. Lifeguards blew a whistle warning us to slow down as we dashed to the refreshing water on dangerous slippery, molten-hot concrete.
But today's pools, water parks and splash pads are much safer thanks to companies like Life Floor.
Life Floor first received $300,000 in 2014 through a partnership between Heartland Rural Electric Fund, Lake Area Improvement Corporation and East River Electric's Rural Electric Economic Development, Inc. (REED) Fund was put together to assist the company. East River Electric's REED Fund provided revolving loan funds received through USDA Rural Development's Rural Economic Development Loan and Grant program and Lake Area Improvement Corporation provided loan funds received through USDA Rural Development's Intermediary Relending Program. The equipment needed to get the manufacturing facility on its feet was made possible through funding provided by these entities all located within the state of South Dakota.
They opened in 2015 as a pilot program specializing in aquatic tiles that are both slip resistant and soft. A "Doing Business As" company of MNY Group, LLC in Minneapolis, Minnesota, Life Floor developed a solution for a safer surface while providing a pleasant aesthetic to welcome guests.
"We had to do a lot of engineering to make the flooring work, but we're bringing back the knowledge of how it's done," said Vimal Thakkar, Process Engineer for Life Floor. "It's very rewarding knowing we are making a safe place for families to gather and we're proud to say this is made in the USA."
The product was originally manufactured in Vietnam, but the company wanted to have more control on research and development and do it at a lower cost and lower carbon footprint. As Life Floor began manufacturing in Madison, the company focused on efficiency and creating a cost-competitive product with a focus on a surface that could stand the test of time against sunlight, water and heavy foot traffic.
In 2018, the company began a major expansion, quadrupling its footprint from 2,500 square feet to 10,000 square feet.
"Our growth continued even into 2020 during the pandemic," said MNY Group CEO Jonathan Keller. "Because waterparks and pools were mostly closed during the pandemic, we continued to see growth as these businesses upgraded to a safer surface for their customers and newly constructed aquatic facilities completed construction."
Throughout their first six years of manufacturing in South Dakota, Life Floor has seen a continued shift between international and domestic customers and from new construction to retrofitting existing locations. Now in 2022, Keller says the company is performing well in both markets and sees a balance between new construction and retrofit projects.
Thakkar also highlighted the company's focus on designing floors that match the branding of their customers and using technologies that streamline the process from raw material to a finished tile.
"Our customers expect a product that matches their brand, so we spend a lot of time ensuring we have matched their colors and that those colors resist fading from harsh elements," said Thakkar. "We transitioned from die-cut tiles to precision cutting, which has decreased production time and increased our precision."
While Life Floor works with customers globally, local businesses have benefited from the same material to keep customers safe.
"As we remodeled our pool area in early 2022, we recognized the need to make our floor safer," said Gene Wockenfuss, director for the Madison Community Center. "Life Floor and Falcon Plastics were able to assist in some of the costs to upgrade the flooring."
Wockenfuss joked they weren't so sure about the bright colors when they first saw the design but were reassured the choices would provide a vibrant upgrade to the 20-year-old building.
"We are so happy with the floor and customers have praised the upgraded look and safety," said Wockenfuss. "We're already planning to add more safety features from Life Floor in the future."
MNY Group expects to see an increase in demand and is exploring expansion and growth to meet the growing popularity in Life Floor tiles around the world.
More information about Rural Development's Intermediary Relending Program (IRP) can be found at https://www.rd.usda.gov/programs-services/intermediary-relending-program.
Obligation Amount:
$150,000 REDLG; $150,000 IRP
Date of Obligation:
May 29, 2020
Congressional District:
Johnson