Community Facilities
Rural Development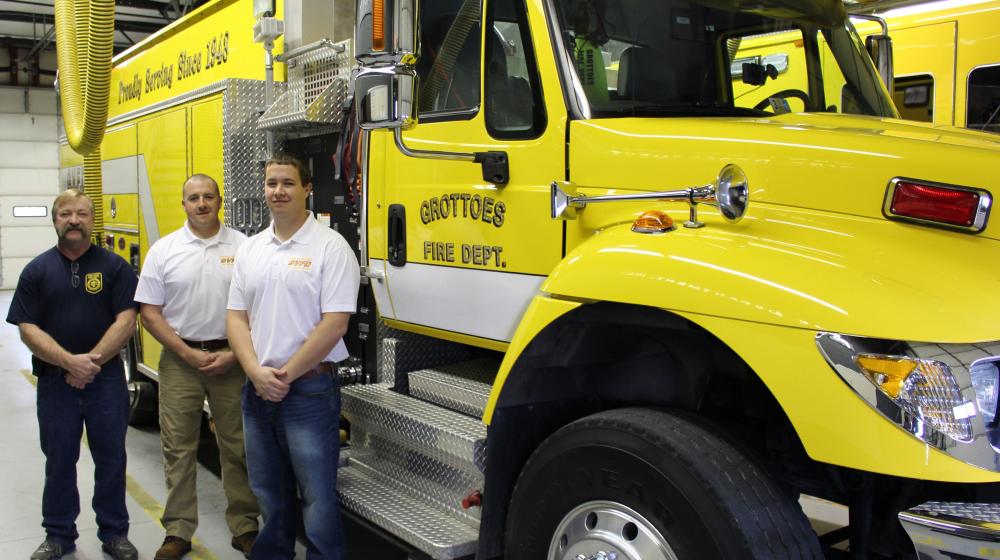 Nostalgia filled the Grottoes Volunteer Fire Department (GVFD) training room recently as four lifetime members reminisced about how far the department has come in 94 years. The department's history - stemming back to 1922 even before its incorporation in 1948 - shows that it's so much more than a fire protection service.  It's a family, and it treats the community as such.
The room came alive with memories as the members discussed door-to-door fund drives, lawn party fundraisers, involvement in local parades and late-night food preparations for volunteers. One could almost smell the scent of ham sandwiches wafting in from the kitchen and hear the decades-old laughter of the Ladies Auxiliary—now known as associate members.
"That's just the soft part of it," said Jeanne Kirby, GVFD historian. "You don't want to be in their way when they get a call."
Volunteer firefighters at GVFD answer 700-800 calls per year. As the first advanced life support volunteer fire department in the Shenandoah Valley, GVFD's first response emergency medical program responds to all life-threatening emergencies. Therefore, volunteers are trained to provide both fire protection and medical attention.
The GVFD building is used as an emergency shelter through the Red Cross and is equipped with emergency generators that can withstand power outages using 100 percent power for up to three days.  The department also provides public education programs for the community.
Jeff Morris, a member of the department's board of directors for more than 30 years, stressed that the department has always had the drive and dedication to serve, but it would not have come this far without the help of USDA Rural Development.
The agency has provided GVFD with more than $1.9 million in loans and grants since 1997, helping the department purchase fire protection equipment, two fire engines, a new fire station and an addition that houses a gymnasium and GVFD Museum. 
GVFD has paid off three of the five USDA Rural Development loans through tireless fundraising efforts and exceptional financial management.
"Rural Development has just been a blessing," Morris said. "It's been a great relationship through the years. I think it's probably one of the best relationships we've ever formed."
Another reason for the department's tremendous growth over the years is pride in the community, the department and their shared history.
Kirby said that pride is part of the reason more than 60 GVFD volunteers have worked to become professional firefighters over the years.
Her husband, David Kirby, a third-generation GVFD member since 1967, said the department's pride in service started on day one in 1922 before it was even incorporated and the community had only one horse-drawn water hose, which they stored in a garage. He said this value has been carried on by each generation ever since.
Obligation Amount:
$1.9 million
Date of Obligation:
September 1, 2015
Congressional District:
6th